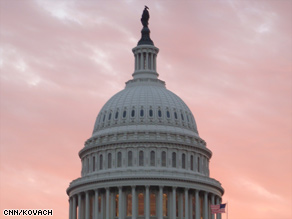 The CNN Washington Bureau's morning speed read of the top stories making news from around the country and the world.
WASHINGTON/POLITICAL
For the latest political news: www.CNNPolitics.com
CNN: Kucinich flip tweaks health care math
Ohio Rep. Dennis Kucinich's announcement Wednesday morning that he will support the Senate's health care legislation has reduced the bill's opponents in the House to 204, now 12 votes shy of the 216 needed to prevent President Obama from scoring a major victory on his top domestic priority.
CNN: Idaho challenges national health care proposal; more states may follow
Idaho on Wednesday became the first state to pass a law saying no thanks to part of President Obama's health care proposal.
The Idaho Health Care Freedom Act says in part, "every person within the state of Idaho is and shall be free to choose or decline to choose any mode of securing health care services without penalty or threat of penalty." Several legal analysts said if Congress enacts a national health care law, it would supersede any state laws written to block them.
Washington Post: GOP lawmakers, candidates pledge to repeal health-care legislation
Even as House Democrats search for the votes to send a health-care reform bill to President Obama, dozens of Republican lawmakers and candidates have signed a pledge to back an effort to repeal the measure, should the GOP take control of either chamber of Congress after this fall's elections. Sparked by the conservative activist group Club for Growth, the "Repeal It" movement first won the backing of some of the most conservative Republicans in Congress, including Sen. Jim DeMint (S.C.), and has expanded to include some of the party's Senate candidates in liberal-leaning states such as New Hampshire and Illinois. In all, 37 House and Senate members and 163 congressional candidates have signed the pledge.
CNNMoney: Bernanke: Fed should monitor all banks
Fed Chairman Ben Bernanke made his strongest case yet to Congress on Wednesday for the Federal Reserve keeping its regulatory oversight powers over banks large and small. Bernanke told the House Financial Services panel he's "quite concerned" about proposals to limit the Federal Reserve's regulatory power to watching out for only the biggest banks. He called the proposal a "bad idea."
CNNMoney: Tax breaks for hiring the unemployed
A scaled-down, $17.6 billion jobs bill approved by Congress on Wednesday features a handful of benefits for business owners, but falls short of the sweeping hiring incentives President Obama and some lawmakers on Capitol Hill initially pushed for.
CNN: New York Gov. Paterson's press secretary resigns
Gov. David Paterson's press secretary resigned on Wednesday, the latest high-profile resignation in an administration embroiled in controversy over a domestic violence case. Marissa Shorenstein wrote in a short statement that, "Due to the circumstances that have led to my unwitting involvement in recent news stories, I can no longer do my job effectively."
Washington Post: Democrats retain advantage among big donors even as total fundraising edge slips
Democrats are having a number of serious problems on the fundraising front, from unhappiness among Wall Street financiers to a narrowing gap with Republicans since the 2008 elections. But Democrats can still cling to one thing: They remain the kings of collecting money from big donors. The numbers add context to a debate in fundraising circles over whether wealthy donors might be giving less to the Democratic Party because of disputes over White House policies. A number of organizations, including The Post, have chronicled how Wall Street financiers and other patrons who backed Barack Obama in 2008 are either abandoning Democrats or, at the very least, giving less money than in the past. But the FEC data suggest plenty of wealthy donors continued to support Democrats with their checkbooks, at least through December.
Los Angeles Times: Obama to visit at crucial moment for Indonesia
President Obama's visit to Indonesia next week will offer the unexpected image of an American president delivering a major diplomatic speech to the Islamic world, from a country that has frequently been the source of terrorist plots against Western targets.Obama's three-day trip to the world's most populous Muslim country is intended to demonstrate Washington's improving relationship and closer security ties with the government of President Susilo Bambang Yudhoyono.
New York Times: Planned Switch to G.O.P. Stirs Governor's Race
A governor's race that seemed all but settled is about to be upended again, by a popular Democrat from Long Island who is set to announce that he is switching parties. The move is certain to excite Republican leaders pessimistic about their party's hopes this fall. Those leaders believe that the official, Steve Levy, a blunt-spoken fiscal hawk and contrarian who collected 96 percent of the vote in his last re-election bid, can tap into the public's anti-incumbent sentiment and frustration with Albany's overspending.
San Francisco Chronicle: Whitman takes early lead over Brown
Republican Meg Whitman's months-long advertising campaign is buying the billionaire, first-time candidate a precious political commodity: name recognition – and a virtual tie with Democrat Jerry Brown, a veteran of 40 years in politics, according to a Field Poll released today on California's gubernatorial race. Whitman, the former eBay CEO who has poured $39 million into her campaign, also continued to thrash her rival in the GOP primary, state Insurance Commissioner Steve Poizner. Among likely Republican primary voters, 63 percent preferred Whitman to 14 percent for Poizner.
NATIONAL
For the latest national news: www.CNN.com
Washington Post: Historians speak out against proposed Texas textbook changes
Historians on Tuesday criticized proposed revisions to the Texas social studies curriculum, saying that many of the changes are historically inaccurate and that they would affect textbooks and classrooms far beyond the state's borders.
Hartford Courant: Postal Service Could Save $7 Billion By Ending Saturday Mail Delivery
With a little help from Congress, the United States Postal Service could save up to $7 billion a year by ending Saturday mail delivery and restructuring retiree benefit funding, the second highest ranking postal official told the Hartford Postal Customers Council today.
Philadelphia Inquirer: "JihadJane" said to have confessed
The Montgomery County woman who calls herself "JihadJane" has confessed to the FBI about her alleged role in a plot to kill a Swedish cartoonist, according to two people close to the investigation. Colleen LaRose confessed to FBI agents shortly after her October arrest at Philadelphia International Airport, where she had just arrived from London, said the two sources, who spoke on conditon of anonymity. LaRose, 46, whose arrest was kept quiet until related arrests last week in Ireland, is scheduled to be arraigned this morning at the federal courthouse in Philadelphia.
INTERNATIONAL
For the latest international news: http://edition.cnn.com
CNN: U.S. believes al Qaeda still deadly but 'on the run'
An intercepted message indicates some members of al Qaeda are looking to the group's founder for more visible leadership, a U.S. intelligence official told CNN Wednesday after CIA director Leon Panetta talked about the message in a newspaper interview. Osama bin Laden is "rarely seen, rarely heard," the official said, and that is "troubling" to those who see him as their leader.
CNN: Official: Suspected al Qaeda operative believed killed
A suspected al Qaeda member believed to have played a key role in a deadly December attack on CIA employees in Afghanistan appears to have been killed, a U.S. counterterrorism official told CNN Wednesday.
CNN: Purported al-Awlaki message calls for jihad against U.S.
American-born Muslim cleric Anwar al-Awlaki is calling for jihad against America, claiming "America is evil" in a new audio message obtained by CNN. Al-Awlaki is believed to be hiding out in hills of southern Yemen with the protection of his very powerful family tribe. CNN could not authenticate the recording as being by al-Awlaki, but sources have told CNN that they believe the voice on the recording is him and that the recording is genuine.
Washington Post: Clinton's agenda for Russia trip reflects improving but fragile relationship
A year after U.S. Secretary of State Hillary Rodham Clinton presented a mock "reset" button to Russia's foreign minister, the two nuclear giants have significantly improved their tattered relationship, making progress on U.S. priorities such as Iran and Afghanistan and closing in on a major arms-control agreement, officials from both countries say. But it has not been easy.
New York Times: U.S. Mulls Own Plan for Mideast Talks
The angry exchanges between the United States and the Israeli government have rekindled a White House debate over whether — and when — President Obama should propose an American plan to form the basis of negotiations between Israel and the Palestinians, senior administration officials said Wednesday. The move would be a risky one for Mr. Obama at a time that the coalition government of Prime Minister Benjamin Netanyahu is fragile and the Palestinians are deeply divided. Until now Mr. Obama has deflected calls to put his own plan, with territorial maps, on the table.
BBC News: Guatemala to extradite ex-leader Alfonso Portillo to US
A criminal court in Guatemala has agreed to extradite former President Alfonso Portillo to the US where he faces money-laundering charges.
The Guardian: Germany and Ireland call on Catholic church to hold child sex abuse inquiries
The crisis gripping the Catholic church deepened today, with calls for national inquiries to be held in Germany and Ireland to fully disclose the detail and extent of sexual abuse by priests. With hundreds of allegations surfacing in Europe since the start of the year, the German chancellor, Angela Merkel, said the scandal of abuse in the country's churches and schools posed a "major challenge" that could be resolved only through a full and frank inquiry into all cases.
New York Times: Change Comes to Myanmar, but Only on the Junta's Terms
Thehere is guarded hope among business people and diplomats that Myanmar, or Burma, as many people still call the country, may be gradually moving away from years of paranoid authoritarianism and Soviet-style economic management that has left the majority of the country's 55 million people in dire poverty. A new constitution is expected to be introduced later this year, and the junta is planning the first elections in two decades. Analysts say that the elections are not likely to be fully competitive or fair, but that they could move the military to decentralize some of its power.
CNN: Negotiations under way with Iran over Iranian-American's release
An American lawyer has been holding secret negotiations with Iran for the release of an Iranian-American being detained for two years. Reza Taghavi, a retired businessman from Orange County, California, has been held in Iran's notorious Evin prison since his arrest in May 2008 without ever being charged, his lawyer said.
Times of London: North Korean official Pak Nam-ki executed for disastrous currency reform
North Korea has executed a ruling party official blamed for November's botched currency reform which led to runaway inflation and threatened new food shortages, in an attempt to contain civil unrest.
BUSINESS
For the latest business news: www.CNNMoney.com
CNNMoney: Stocks end at 18-month highs
Stocks rallied Wednesday, with the Dow, Nasdaq and S&P 500 all closing at new fresh 2010 highs, after the U.S. and Japanese central banks chose to keep interest rates low and the Senate passed a key jobs bill. The Dow Jones industrial average (INDU) added 48 points, or 0.6%, closing at 10,733.67. It was the highest close since 10,831.07 on Oct. 1, 2008.
Washington Post: Small banks lag in repaying Treasury for bailout funds
The Treasury Department invested in large and small banks during the financial crisis. So far, the big bets are paying off better than the smaller ones. While the largest banks have borne the brunt of criticism for their role in triggering the crisis, they were among the quickest to give back their federal bailout funds. Sales of the warrants that these firms were required to hand over to the federal government as a condition of the aid also proved lucrative for the Treasury. But hundreds of community banks have yet to return their bailouts. But hundreds of community banks have yet to return their bailouts.
New York Times: China Drawing High-Tech Research From U.S.
For years, many of China's best and brightest left for the United States, where high-tech industry was more cutting-edge. But Mark R. Pinto is moving in the opposite direction. Mr. Pinto is the first chief technology officer of a major American tech company to move to China. Companies — and their engineers — are being drawn here more and more as China develops a high-tech economy that increasingly competes directly with the United States. A few American companies are even making deals with Chinese companies to license Chinese technology.
Der Spiegel: Great Britain Stars in Its Own Greek Tragedy
Greece's budget deficit is impossibly high. But Great Britain's is even higher. Prime Minister Gordon Brown has his work cut out for him in this election year - and the coming cuts will be painful.
New York Times: German Calls for Austerity Have Europe Grumbling
To protect the value of the euro, satisfy investors and appease Europe's economic taskmaster, Germany, the region's most heavily indebted nations consider that they have no choice but to slim down. But some argue that Berlin is pressing too hard, and that the region's new fixation on debt has created a "cult of austerity" that could make it harder to recover from the slump.
Bloomberg: Germany Seeks IMF Role for Greece in Reversal, Lawmaker Says
Greece should turn to the International Monetary Fund if it needs aid, the chief finance spokesman for German Chancellor Angela Merkel's party said, in a reversal that signals a rift with European leaders Jean-Claude Trichet, Jean-Claude Juncker and Nicolas Sarkozy. The German shift underscores Merkel's attempts to steer clear of any commitment to a Greek bailout and risks scuttling European Union efforts to establish a contingency plan for the debt-strapped nation.
Detroit Free Press: Toyota mulls fix for stalling in 1.2M Corolla, Matrix models
Toyota is considering how to fix computer flaws in up to 1.2 million Toyota Corolla and Matrix models that can cause engines to stall, but has told federal auto safety regulators the problem does not pose "an unreasonable risk" to safety.The new disclosure adds to the quality questions dogging the Japanese automaker, which has been forced to recall 8 million vehicles worldwide, launch heavy incentives to lure U.S. car buyers into its showrooms and faces several probes into its handling of sudden acceleration complaints and its technology.
In Case You Missed It
House Dems continue to try to whip up enough votes for passage of the health care bill. CNN's Brianna Keilar reports.
http://www.cnn.com/video/#/video/politics/2010/03/17/keilar.whipping.the.house.cnn
Just a few days from a final vote, Ed Henry looks at whether any special kickbacks will appear in health care legislation.
http://www.cnn.com/video/#/video/us/2010/03/18/henry.obama.deal.cnn
Subscribe to the CNN=Politics DAILY podcast at http://www.cnn.com/politicalpodcast
And now stay posted on the latest from the campaign trail by downloading the CNN=Politics SCREENSAVER at http://www.CNN.com/situationroom