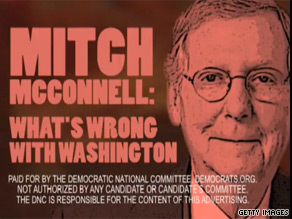 A new ad is taking aim at McConnell.
(CNN) - With the expected House vote on health care reform days away, the Democratic National Committee is launching a new ad Friday that blasts Senate Majority Leader Mitch McConnell for "plotting" to block the sweeping legislation.
The 30-second spot, which is set to air in the Washington, D.C., area, highlights a recent New York Times report that McConnell, a Kentucky Republican, has long planned to use his "extensive knowledge of Senate procedure" to slow or even stop passage of the final bill.
"Even before President Obama took office he was plotting his obstruction, and Senate Republicans stood with him, playing politics and protecting their special interest allies. Mitch McConnell and Republican games, that's what's wrong with Washington," the ad states.
McConnell told the Times on Tuesday that it is "critical" Republicans maintain their opposition to the health care bill.
"If the proponents of the bill were able to say it was bipartisan, it tended to convey to the public that this is OK … it's either bipartisan or it isn't."