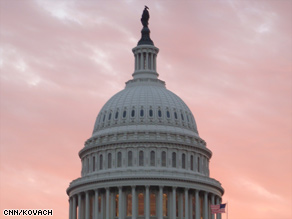 The CNN Washington Bureau's morning speed read of the top stories making news from around the country and the world.
WASHINGTON/POLITICAL
For the latest political news: www.CNNPolitics.com
CNN: Democrats unveil $940 billion compromise health care plan
Democratic congressional leaders unveiled a long-awaited $940 billion compromise health care plan Thursday, setting the stage for a final legislative showdown on President Obama's domestic priority. White House press secretary Robert Gibbs announced that Obama had decided to delay an upcoming trip to Australia and Indonesia to help push the bill over the finish line. The president had been set to depart Washington on Sunday, the same day that the House of Representatives is likely to vote on the measure.
CNNMoney: Health reform: Where the money will come from
Democrats pushing for health care reform are closer to the finish line than ever, but it's not over yet. And the question of cost will remain a central issue in coming days. The estimated long-term deficit reduction comes mainly from more than $500 billion in savings from health programs like Medicare, and $438 billion in new tax revenue.
Wall Street Journal: GOP Plots Strategies to Nullify Health Bill
Republicans are looking beyond Sunday's expected vote on the Democrats' health-care overhaul to focus on strategies for striking back should it pass, ranging from challenges to the measure by individual states to a national repeal campaign. Opponents say they can still defeat the bill this weekend. By talking about the tactics now, and showing how they intend to rally the public, they hope to sway wavering lawmakers to vote no. And if the bill passes, they have a head start on a strategy to knock off all or parts of the legislation.
New York Times: From Bitter Campaign to Strong Alliance
Sixteen months after Mr. Obama surprised nearly everyone by picking her as secretary of state, the two have again surprised nearly everyone by forging a credible partnership. Mrs. Clinton has proved to be an eager team player, a tireless defender of the administration, ever deferential to Mr. Obama and careful to ensure that her husband, the former president, does not upstage her boss. …Still, there is none of the deep familiarity or the tight bonds — the round-the-clock, back-channel access — of their predecessors, Condoleezza Rice and George W. Bush, or going further back, James A. Baker and the first President Bush or Henry A. Kissinger and Richard M. Nixon.
Wall Street Journal: Deal Near on Gitmo, Trials for Detainees
The White House is nearing a deal with a bipartisan group of senators to close the Guantanamo Bay prison and pave the way for more detainees to be tried before military commissions, a move that would reverse a signature Obama administration security policy. The effort, led by White House counsel Robert Bauer and White House Chief of Staff Rahm Emanuel, further sidelines Attorney General Eric Holder, who at a hearing Tuesday continued to argue that the planners of the Sept. 11, 2001, attacks and other terrorists should be given civilian federal trials.
Chicago Tribune: U.S. planning to go ahead with plan to buy Illinois prison
The Obama administration plans to purchase the state prison in rural Thomson, Ill., regardless of whether Congress allows terrorism suspects to be transferred there, a Justice Department official said Thursday.
Miami Herald: NRA has gotten most of what it wanted in Florida Legislature in 2010
Adoption agencies can't require prospective parents to disclose whether they have a firearm, according to a new bill that rocketed Thursday out of the Legislature and awaits the governor's signature. Gov. Charlie Crist plans to approve the legislation, along with another National Rifle Association-backed bill that would stop legislators from raiding a special trust fund that pays for concealed-weapons permit regulation. The bill could be passed by the Legislature as early as next week. Both bills attest to the might of the NRA. But the group has won so many victories that even supporters say the gun lobby is now left with little nips and tucks to the right to own firearms.