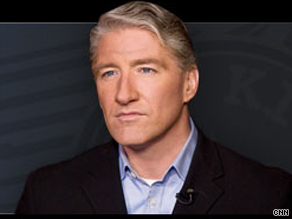 'John King, USA' officially launches Monday, but we are pulling back the curtain and inviting viewers to watch how a new show comes together.
Bring your lunch to work Friday and log onto CNN.com at 12 p.m. ET for a special sneak peek of John King's new political show, "John King, USA."
"John King, USA" officially launches Monday at 7 p.m. ET on CNN, but we are providing a true behind-the-scenes experience where Internet users can see how a show comes together in the final stages. Tomorrow's online preview will include an interview with Texas Rep. Ron Paul to talk health care and the future of the Republican Party, as well as an interview with FCC chair Julius Genachowski.
Also, we want your input and are asking for you to "Make Your Case, America!"
We know that all the problems facing this nation cannot be answered in Washington, so we are hoping you can help deliver the solutions. Each week, the show will ask you to weigh in on the hot debate. Are we better off with privatized health care or a public option? Should marijuana be legalized? Which team is better: Yankees or Red Sox? (We all know John thinks it is the Red Sox, but we want to hear what you have to say).
A couple of tips: keep it simple, keep it short, and remember to give us your best made-for-TV smile. So what are you waiting for?
This week's topic is health care: "Is President Obama doing enough or too much in pushing health care legislation?" Make Your Case!