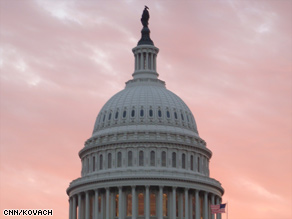 The CNN Washington Bureau's morning speed read of the top stories making news from around the country and the world.
WASHINGTON/POLITICAL
For the latest political news: www.CNNPolitics.com
CNN: House passes health care bill on 219-212 vote
President Obama won a historic victory in the struggle for health care reform Sunday as the House of Representatives passed a sweeping bill overhauling the American medical system. The bill passed in a 219-212 vote after more than a year of bitter partisan debate. All 178 Republicans opposed it, along with 34 Democrats. The measure, which cleared the Senate in December, will now go to Obama's desk to be signed into law. It constitutes the biggest expansion of federal health care guarantees since the enactment of Medicare and Medicaid more than four decades ago. A separate compromise package of changes expanding the reach of the measure also passed the House over unanimous GOP opposition, and is now set to be taken up by the Senate.
CNNMoney: Health reform: The $$$ story
The political whirlwind that surrounded the House's historic health reform votes on Sunday was powered by many issues. Cost was chief among them. The Congressional Budget Office had weighed in with what remains a preliminary cost assessment. The agency's initial analysis heartened supporters of the so-called reconciliation bill, which is now expected to be taken up by the Senate in coming days. The whole package will cost $940 billion over 10 years to provide expanded insurance coverage, according to CBO.
CNN: Health care vitals: Vote switchers
While most representatives voted the same way on the Senate plan on Sunday night as they did on the House plan last November, some did not. A total of 14 members, 13 Democrats and 1 Republican, cast different votes for the two bills.
CNN: Obama hitting road this week to sell health benefits
President Barack Obama plans to hit the road this week to start aggressively selling the benefits of the health care overhaul and give nervous Democratic lawmakers some political cover across the country, according to three Democratic officials familiar with the plans.
CNN: 'Baby killer' shouted at Democrat after bill's passage
Someone shouted "baby killer" Sunday as an anti-abortion Democratic congressman was speaking on the House floor shortly after the chamber passed a sweeping health care reform bill with his help. It wasn't clear from whom the shout came. Rep. Bart Stupak, who opposed the bill over its abortion language until he reached a deal with the White House on Sunday, was speaking against a Republican motion to effectively kill the passed legislation Sunday night when several congressmen shouted him down.
Politico: Mike Doyle facilitated critical Bart Stupak talks
The fate of health care reform may have turned on a single relationship. When they needed to find a way to unlock the votes of a group of anti-abortion lawmakers led by Michigan Rep. Bart Stupak, Democratic leaders turned to Stupak's roommate, Pennsylvania Rep. Mike Doyle, to facilitate the critical talks. In announcing his decision to accept the White House deal – which involved the executive order and a House-floor colloquy intended to establish legislative intent in the event of a court challenge – Stupak gave a shout-out to his best friend in Washington.
CNN: Stupak award rescinded
An anti-abortion rights organization is withdrawing an award it planned to present Rep. Bart Stupak, after the Michigan Democrat announced Sunday he would support health care reform legislation.
CNNMoney: Washington gains dominant role in student loans
The House voted 220-211 on Sunday to make Washington the one-stop-shop for cheap student loans and to boost funding for need-based scholarships. While approving the overhaul of health care, the House also voted along party lines on another of President Obama's top priorities: cutting out bank middlemen who collect subsidies to make education loans guaranteed by the federal government.
CNN: Liberal organization buys TV time against Bachmann
Rep. Michele Bachmann is the target of a new $100,000 television ad campaign that criticizes her for voting against health care reform. The liberal advocacy organization Americans United for Change will begin running the commercials against the Minnesota Republican Tuesday – the centerpiece of a broader attempt to hurt Republicans for voting against President Obama's signature domestic issue.
Washington Post: Democrats counter Republicans' pre-redistricting push
Hoping to counter a series of Republican efforts aimed at winning governorships and state legislatures in advance of the decennial congressional redistricting process, the Democratic Governors Association is launching its own venture, led by veteran party strategist Harold Ickes.
CNN: Health care vitals: Tight races
Sunday's votes on the Senate health care reform plan will likely play a big role in the congressional midterm elections this November. The issue may have the biggest impact on the most competitive House races, listed below.
Philadelphia Inquirer: Congress braced for Nov. 2 repercussions
They were cajoled in the Oval Office and called from Air Force One. Interest-group attack ads saturated television in their districts, and their office phones never stopped ringing. Undecided House Democrats found themselves in a political maelstrom the last few weeks as the vote on legislation to remake the health-care system neared. Sunday night's House approval along party lines doesn't mean the pressure is off those Democrats, however.
San Francisco Chronicle: Prominent Pelosi tailor-made for attack ads
House Speaker Nancy Pelosi's starring role in the health care reform fight may make her a hero in her own party, but it also guarantees the San Francisco Democrat will be the poster girl for Republican attacks come this fall. And while her seat in Congress probably won't be in jeopardy, her job title might.
Sarasota Herald-Tribune: As Rubio and Crist grapple, Meek waits
With all the attention being paid to the Republican Senate primary between former House Speaker Marco Rubio and Gov. Charlie Crist, it may- be easy to forget that there's another major candidate seeking the seat - Democratic Congressman Kendrick Meek. He doesn't mind letting the Republicans get all the attention as long as they keep criticizing each other.
Salt Lake Tribune: Bennett faces challengers from all sides
This is a very different year. So says Sen. Bob Bennett, the three-term Republican incumbent who finds himself battling seven challengers from his own party, two Democrats and one Constitution Party candidate.
Los Angeles Times: Sizing up the Supreme Court after Justice John Paul Stevens retires
The Supreme Court is about to undergo another generational transition, as the senior leader of its liberal wing, John Paul Stevens, is expected to retire this summer and be replaced by a junior justice appointed by President Obama. For the moment, the front-runners for the nomination, assuming Stevens does announce his retirement after he turns 90 next month, are said by legal insiders to be U.S. Solicitor Gen. Elena Kagan, 49; Judge Diane Wood, 59, of the U.S. 7th Circuit Court of Appeals in Chicago; and Judge Merrick Garland, 57, of the U.S. Court of Appeals for the District of Columbia Circuit.
NATIONAL
For the latest national news: www.CNN.com
CNN: Immigration rally draws thousands to Washington
Tens of thousands of people turned out on Washington's National Mall on Sunday to support the Obama administration in its next big battle, a renewed effort to overhaul U.S. immigration laws.
INTERNATIONAL
For the latest international news: http://edition.cnn.com
CNN: Israel won't back down in dispute with U.S., PM says
Israel has no intention of backing down in its argument with the United States over Israeli plans to build 1,600 apartments on disputed land in largely Arab East Jerusalem, Prime Minister Benjamin Netanyahu said Sunday.Netanyahu plans to leave for the United States on Sunday night and speak to the influential lobbying group the American Israel Public Affairs Committee on Monday.
Wall Street Journal: Obama, Netanyahu to Meet in Washington Tuesday
U.S. President Barack Obama and Israeli Prime Minister Benjamin Netanyahu will meet Tuesday in a bid to quell a diplomatic row that has left the U.S.-Israeli relationship at its lowest point in decades. Mr. Netanyahu paved the way for the White House visit, said U.S. and Israeli officials, by offering Washington a series of concessions aimed at underpinning a Middle East peace process that Mr. Obama has placed at the center of his foreign-policy agenda.
Washington Post: China's commerce minister: U.S. has the most to lose in a trade war
China's commerce minister warned the United States on Sunday that if it launches a "trade war" against China by levying punitive tariffs on Chinese imports, the United States will suffer the most.
CNN: Iraqi PM calls for manual vote recount
Iraqi Prime Minister Nuri al-Maliki has called for a manual recount of the votes cast in the country's tight parliamentary elections, saying he is asking for it to "preserve the integrity of the electoral process." However, the Independent High Electoral Commission rejected his demand, with spokesman Judge Qassim al-Aboodi telling reporters there must be "compelling reasons" and strong evidence of widespread fraud for the recount.
Boston Globe: Gambling on Iraq's slow rise from ruin
Some count the kidnappings. Others count the suicide bombs. Still others count the deaths of US soldiers. But, in the saga of Iraq's slow struggle toward normalcy, Robert Smith keeps track of something far more obscure: the price of Iraqi government issued bonds. Smith, one of Boston's most intrepid investors, has made his fortune betting on the world's most dangerous places. Dubbed the "Indiana Jones of International Finance,'' Smith buys IOUs from governments so unstable that few others will touch them. …now, a week after Iraq's historic election, his bets are paying off: The price of Iraqi bonds has doubled in the last year, recently hitting their highest value ever.
Wall Street Journal: Afghan Militants Seek Peace Deal
Afghanistan's second-largest insurgent group after the Taliban said it sent a delegation to Kabul to negotiate a peace deal with the government and coalition forces, possibly marking the biggest split in insurgent ranks since the war began.
Washington Post: On Guam, planned Marine base raises anger, infrastructure concerns
This remote Pacific island is home to U.S. citizens who are fervent supporters of the military, as measured by their record of fighting and dying in America's recent wars. But they are angry about a major military buildup here, which the government of Guam and many residents say is being grossly underfunded. They fear that the construction of a new Marine Corps base will overwhelm the island's already inadequate water and sewage systems, as well as its port, power grid, hospital, highways and social services.
Los Angeles Times: Sarkozy's party defeated in France's regional elections
French President Nicolas Sarkozy's center-right party was soundly defeated in the final round of France's regional elections held Sunday, in a sign of widespread disapproval of the administration two years before the next presidential election.
CNN: Pope's Irish child abuse letter fails to calm storm
Victims of child abuse by Catholic clergy in Ireland have dismissed a long-awaited letter by Pope Benedict XVI as not going far enough.
BUSINESS
For the latest business news: www.CNNMoney.com
USA Today: Average income tax refund jumps by 10% to $3,036
The average income tax refund is up nearly 10% from a year ago, reflecting tax credits included in last year's economic stimulus package, according to IRS Commissioner Douglas Shulman. Vice President Biden is expected to announce the increase Monday as part of a month-long effort to promote tax benefits available through the Recovery Act of 2009.
Bloomberg: Obama Pays More Than Buffett as U.S. Risks AAA Rating
The bond market is saying that it's safer to lend to Warren Buffett than Barack Obama. Two-year notes sold by the billionaire's Berkshire Hathaway Inc. in February yield 3.5 basis points less than Treasuries of similar maturity, according to data compiled by Bloomberg.
Wall Street Journal: Google Near Plan On China
Google Inc. is expected to announce its next steps in China this week, according to a person briefed on the matter. The details of the Internet company's plan, reached after talks with Chinese officials failed to make progress, remain unclear. The person briefed on the matter said the announcement could come as early as Monday.
Wall Street Journal: PepsiCo Develops 'Designer Salt' to Chip Away at Sodium Intake
Later this month, at a pilot manufacturing plant here, PepsiCo Inc. plans to start churning out batches of a secret new ingredient to make its Lay's potato chips healthier. The ingredient is a new "designer salt" whose crystals are shaped and sized in a way that reduces the amount of sodium consumers ingest when they munch. PepsiCo hopes the powdery salt, which it is still studying and testing with consumers, will cut sodium levels 25% in its Lay's Classic potato chips. The new salt could help reduce sodium levels even further in seasoned Lay's chips like Sour Cream & Onion, PepsiCo said, and it could be used in other products like Cheetos and Quaker bars.
In Case You Missed It
President Obama addresses the nation after the passage of the landmark health care bill.
http://www.cnn.com/video/#/video/politics/2010/03/22/sot.obama.history.cnn
CNN's Wolf Blitzer talks to two members of the House about the recent passage of health reform.
http://www.cnn.com/video/#/video/politics/2010/03/22/lkl.schultz.issa.cnn
Subscribe to the CNN=Politics DAILY podcast at http://www.cnn.com/politicalpodcast
And now stay posted on the latest from the campaign trail by downloading the CNN=Politics SCREENSAVER at http://www.CNN.com/situationroom