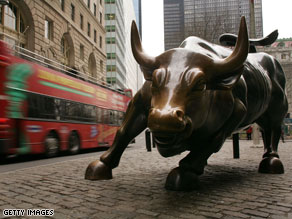 A new CNN/Opinion Research Corporation poll reveals that 53 percent of Americans favor new restrictions on banks.
Washington (CNN) - A little more than half of Americans want Congress to impose tighter regulation over Wall Street, a new survey released Tuesday found.
According to a CNN/Opinion Research Corporation poll, 53 percent favor legislation that would place new restrictions on banks and other financial companies, while 43 percent oppose it.
The Obama administration and Democrats in Congress have led the move to rewrite the rules of finance. But little progress has been made some 18 months since the height of the financial panic in September 2008.
The House passed a comprehensive bill last December that would impose more oversight and stronger capital cushions for the largest banks and Wall Street firms.
The push has been much slower going in the Senate. On Monday, the Senate Banking, Housing, and Urban Affairs Committee voted on party line to pass a Wall Street overhaul bill by its chairman, Connecticut Democrat Chris Dodd. The bill is expected to face strong opposition from Republicans and industry lobbyists as it heads to the Senate floor.
In fact, the issue draws out sharp party differences. The CNN poll found that 68 percent of Democrats and 51 percent of Independents favor bank legislation. By contrast, only 35 percent of Republicans favor new regulation and 62 percent oppose it.
The CNN poll was conducted on March 19-21 through telephone interviews with 1,030 adult Americans. The poll has a margin of error of plus or minus 3 percentage points.