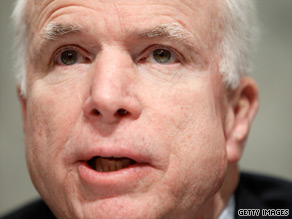 Sen. John McCain has introduced an amendment striking 'sweetheart deals' for Democrats in return for their votes.
Washington (CNN) - The Senate launched debate Tuesday on a House-passed bill to make changes in the hours-old health care reform law, with Republicans promising to use every parliamentary tool available to undermine or defeat the measure.
The "fixes" bill was necessary to get reluctant House Democrats to approve the Senate's version of the health care reform bill. By approving the Senate version of the bill Sunday night, the House sent it to President Obama, who signed it into law Tuesday.
However, House Democrats agreed to support the health care bill only if the fixes measure accompanied it to make changes to the Senate version. Now, the Senate must approve the fixes bill so Obama also can sign it.
Democrats say they're concerned that Republicans may be able to change the delicately balanced package. Any changes would force the bill back to the House for another vote.
Republicans are expected to propose numerous amendments to the fixes bill in an effort to hold up progress and force Democrats to vote against provisions they might usually support.

Full story