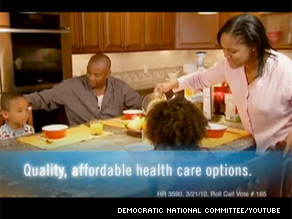 Democrats have finally passed the top issue on their legislative agenda - health care - but with Republicans already pushing for a repeal, it's time to sell it.
The Democratic National Committee will run ads condemning ten Republicans who voted against the health care bill and touting the merits of twenty-five Democrats who supported it, the organization announced Friday
The radio ad campaign, called "Hands off our Health Care" targets several Republicans who support the bill's repeal, including Louisiana Rep. Joseph Cao - the lone Republican who supported an earlier version of the health care bill.

Cao's vote was again sought after by Democrats - including the president - in the weeks leading up to the final vote, but his concerns over federal funding for abortions led the Louisiana Republican to vote no.
Other Republicans the ads target: Dan Lungren and Mary Bono Mack of California, Mike Castle of Delaware, Mark Kirk of Illinois, Lee Terry of Nebraska, Pat Tiberi of Ohio, Jim Gerlach and Charlie Dent of Pennsylvania, and Dave Reichert of Washington.
The television ad campaign, called "You Fight, We Fight," extolls the merits of the health care legislation, including "quality, affordable prescriptions," and "closing the Medical prescription gap."
The ads will run in markets across the country, the DNC said in an e-mailed statement.