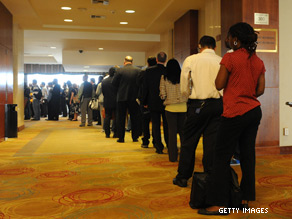 The Obama administration announced new steps to help the unemployed avoid foreclosures.
New York (CNNMoney.com) - Under fire to do more to stop the foreclosure crisis, the Obama administration announced new steps on Friday to help the unemployed and those who are "underwater" with a bigger mortgage than their home is worth.
For eligible unemployed borrowers, the effort would require loan servicers to reduce monthly mortgage payments to 31% or less of income - and even suspend them entirely, an administration official said. The forbearance assistance would last up to six months, after which the borrower would be evaluated for a loan modification.
An administration official declined to comment whether interest or fees would be charged during the forbearance period.