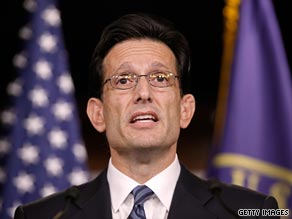 A Philadelphia man has been arrested for threatening to kill House Minority Whip Eric Cantor.
Washington (CNN) - A 33-year-old Pennsylvania man has been arrested for threatening to kill Rep. Eric Cantor of Virginia, the number two Republican in the U.S. House of Representatives, the Justice Department announced Monday.
Norman Leboon, a resident of Philadelphia, was charged in a two-count complaint with threatening to kill Cantor and his family. Leboon made the threat in a YouTube Internet video sent to Google earlier this month, according to a Justice Department news release.
Neither Cantor nor his family were harmed as a result of Leboon's threat, the release noted.
"The Department of Justice takes threats against government officials seriously, especially threats to kill or injure others," U.S. Attorney Michael Levy said. "Whether the reason for the threat is personal or political, threats are not protected by the First Amendment and are crimes."
If convicted, Leboon would face a sentence of up to 15 years in prison and a $500,000 fine, according to the release.