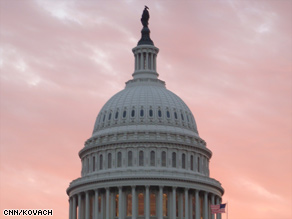 The CNN Washington Bureau's morning speed read of the top stories making news from around the country and the world.
WASHINGTON/POLITICAL
For the latest political news: www.CNNPolitics.com
CNN: Obama set to sign health care 'fixes' bill
President Obama is set to claim final victory on his top domestic priority Tuesday by signing into law a package of changes to the newly enacted health care reform bill. The signing ceremony at a community college in northern Virginia will culminate almost a year of fiercely partisan debate and a tortuous legislative journey on the proposals generated by Democrats and unanimously opposed by Republicans.
CNN Poll: Americans divided on repealing health care law
Most Americans disapprove of the health care reform law, but that does not translate into majority support for the "repeal and replace" strategy backed by most GOP leaders, according to a new national poll. A CNN/Opinion Research Corporation survey released Monday indicates that 56 percent of the public disapproves of the new legislation, with 42 percent approving of the bill that President Obama signed into law last week. Tuesday the president signs into law fixes to the original legislation that were approved by Congress last week.
New York Times: Companies Push to Repeal Provision of Health Law
An association representing 300 large corporations urged President Obama and Congress on Monday to repeal a provision of the health care overhaul that prompted AT&T, Caterpillar and other companies to announce substantial charges for the current quarter. Many companies said they were taking these charges now, before the current quarter ended, to comply with accounting rules. But some corporate critics asserted that the companies' rapid response to the health legislation was aimed at pressing the administration to repeal the provision.
Los Angeles Times: Donald Berwick is Obama's likely pick to run Medicare and Medicaid
Dr. Donald Berwick, President Obama's likely pick to run Medicare and Medicaid as the government embarks on a massive overhaul of the nation's health insurance system, has been a sometimes provocative advocate for more efficient delivery of patient care.
A professor of pediatrics and healthcare policy at Harvard Medical School, Berwick is best known in healthcare circles for founding and running the Institute for Healthcare Improvement, a 19-year-old think tank focused on "cultivating promising concepts for improving patient care and turning those ideas into action."
CNNMoney: $600 million in housing aid on the way for 5 more states
Five more states will receive federal funding to help troubled homeowners avoid foreclosure, the Obama administration announced Monday. Last month, President Obama unveiled the Hardest Hit Fund, which pumped $1.5 billion into state housing agencies in California, Arizona, Florida, Nevada and Michigan. These five were originally identified because they had been hardest hit by the housing bust, with prices declining more than 20%. Now, an additional $600 million is being doled out to the five states that have the largest number of counties suffering unemployment rates above 12%: North Carolina, Ohio, Oregon, Rhode Island and South Carolina.
Washington Post: Obama administration may send U.S.-Russia arms treaty to Congress by late April
The Obama administration plans to send the new arms-control treaty package with Russia to Congress by the end of April, hoping for ratification by year's end, officials said Monday as they laid out details of the proposed agreement. Ellen Tauscher, undersecretary of state for arms control and international security, said that work was still being done in Geneva on the treaty, including details on inspections and exchanges of data. Despite the administration's hopes for Senate ratification this year, several Republican senators have expressed concern about moving too quickly on a vote.