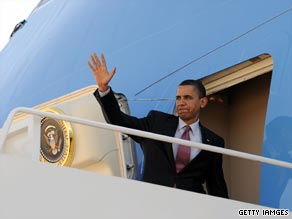 Obama will visit North Carolina Friday.
Washington (CNN) - President Obama heads to North Carolina today to tout his plans to create jobs, his third visit to the politically important state since he entered the White House.
The president is expected to make his remarks at a Charlotte company that's hired new workers and beefed up operations partially because of grants from the economic stimulus program.
Obama last visited the state in July, when he held a town hall on health care reform in Raleigh. Prior to that visit, the president outlined his plans for the withdrawal of U.S. troops from Iraq, during a speech at Camp Lejeune Marine Base in North Carolina in February of last year.
Vice President Joe Biden has also visited the state twice to tout the benefits of the stimulus program.
Obama narrowly won North Carolina in 2008, the first Democrat to carry the state in a presidential election since 1976.
Follow Paul Steinhauser on Twitter: @psteinhausercnn