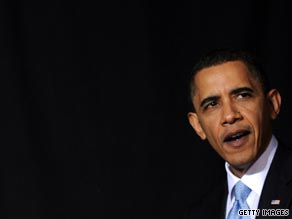 President Obama is predicting a difficult set of midterm elections.
Washington (CNN) - How tough will the midterm elections be for the Democratic Party?
Here's President Obama's take:
"These November elections, as Tim said, will be hard - partly because this country is still divided, and after 2006 and 2008 we hit a very high watermark in terms of Democratic representation in Congress and governorships and we're in the midst of what is still a very difficult time," said Obama Thursday night during comments he gave at a Democratic National Committee fundraiser in Boston, Massachusetts.
The Tim he's referring to former Virginia governor and DNC Chairman Tim Kaine, who introduced the president at the event.
Talking about his party's agenda, Obama went on to say that "we've got more to do - we are not finished."
According to a CNN/Opinion Research Corporation poll released earlier this week, 55 percent of Republicans say they are now extremely or very enthusiastic about voting this November, 19 points ahead of the 36 percent of Democrats who say they feel the same way about casting ballots in the midterms.
The survey also indicates the Republicans hold a 49 percent to 45 percent advantage on the "generic ballot" question for Congress.
The generic ballot question asks respondents if they would vote for a Democrat or Republican in their congressional district, without naming any specific candidates. The Democrats currently hold a 253-177 advantage in the House, with four seats that the Democrats once held vacant and one seat that the GOP held vacant. Republicans need to win 40 seats to take back control of the chamber.
The poll also indicates that a sizable amount of respondents say their votes are not set in stone, with 4 in ten questioned saying they could change their minds between now and November.
CNN Deputy Political Director Paul Steinhauser contributed to this report