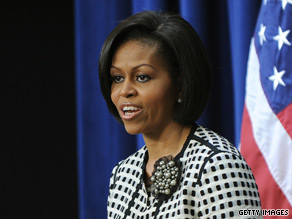 Michelle Obama will arrive in Mexico Tuesday evening.
Washington (CNN) - Michelle Obama is scheduled to arrive in Mexico on Tuesday evening on her first solo official trip as first lady.
The White House is billing the three-day visit as being "in recognition of the deep ties between the United States and Mexico."
Obama has several visits and tours scheduled, including a Wednesday morning meeting with Mexican first lady Margarita Zavala at Los Pinos, the Mexican president's residency. Other events on her itinerary include a tour of the Museo Nacional de Antropologia (National Museum of Anthropology) and a public elementary school that serves local low-income students.
The first lady also will give a speech Wednesday at the Universidad Iberoamericana and will attend a reception with women leaders at Los Pinos and a dinner hosted by Mexican President Felipe Calderon and his wife.
Before leaving Thursday, Obama is scheduled to hold a breakfast for young Mexican leaders and visit the U.S. Embassy in Mexico City.