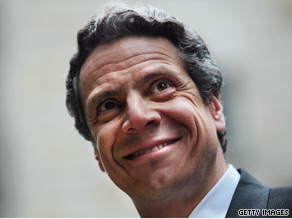 New York Attorney General Andrew Cuomo is ranked favorably in a new poll.
(CNN) – New York Attorney General Andrew Cuomo enjoys overwhelming support for his work as the state's top law enforcement official and is well positioned to win the governorship in November, according to a poll released Tuesday.
The Quinnipiac University poll shows that nearly three out of four New York state voters approve of Cuomo's job performance, with just 14 percent saying they disapprove.
The poll also indicates that Cuomo, a Democrat who is expected to announce that he's running for governor, holds very large leads over possible Republican contenders in hypothetical general election matchups.
In the battle for the GOP gubernatorial nomination, 34 percent of Republican voters say they back former Rep. Rick Lazio, with 11 percent supporting Suffolk County Executive Steve Levy, a Democrat turned Republican, and an equal amount backing Buffalo businessman Carl Paladino. Four in ten Republican voters are undecided. Cuomo leads Lazio by 29 points in a possible November showdown. He tops Levy by 33 points and Paladino by 36 points.
Gov. David Paterson, a fellow Democrat who became governor in 2008 after Eliot Spitzer resigned in disgrace, announced last month that he will not run this year for a full term in office. Cuomo, the son of former three term New York Gov. Mario Cuomo, is widely expected to make a bid for Paterson's job.
"None of the Republican wannabes draws more than the generic Republican vote against Attorney General Andrew Cuomo, but let's see what happens when we have a campaign," says Maurice Carroll, director of the Quinnipiac University Polling Institute.
Separately, the survey indicates that 47 percent of New Yorkers approve of the job Sen. Kirsten Gillibrand is doing, with one in four saying they disapprove. The approval rating is Gillibrand's highest in Quinnipiac polling since she was named senator in January 2009. Gillibrand, a former congresswoman from upstate New York, was appointed by Paterson to replace Hillary Clinton, who stepped down to become secretary of state.
Gillibrand is running this year to serve out the remaining two years of Clinton's term. According to the poll, if former Gov. George Pataki jumped into the race, he'd lead Gillibrand 45 percent to 40 percent. The former three-term Republican governor has not publicly indicated that he has any desire to challenge Gillibrand, a Democrat.
The GOP's had a tough time trying to get a top name Republican to enter the race. Former New York City Mayor and 2008 GOP presidential candidate Rudy Giuliani said no to a bid, as has nine-term Rep. Peter King, newspaper publisher and real estate billionaire Mort Zuckerman, and Dan Senor, a Defense Department official during President George W. Bush's administration. Senor is married to CNN anchor Campbell Brown.
According to the survey, Gillibrand tops Republican Bruck Blakeman, who is running, by 22 points in a hypothetical general election matchup. Joseph DioGuardi and David Malpass are the other two GOP candidates in the race for senator.
The poll indicates that Sen. Charles Schumer, a two-term Democrat who is up for re-election this year, has a 61 percent approval rating.
"Sen. Chuck Schumer is back over 60 percent on his job approval, defying the conventional wisdom that this is a bad year for incumbents," says Carroll.
According to the survey, President Barack Obama's approval rating among New Yorkers stands at 62 percent, up five points from February.
The Quinnipiac University poll was conducted April 6-11, with 1,381 New York State registered voters questioned by phone. The survey's overall approval rating is 2.6 percentage points.
Follow Paul Steinhauser on Twitter: @psteinhausercnn