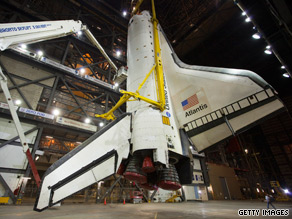 President Obama will unveil his vision for the space program.
Washington (CNN) - The Obama administration's vision for the future of manned space flight will bump the United States to "second or even third-rate" status as a space-faring nation, the commanders of three U.S. moon missions warned Thursday.
The letter was signed by the first and last men to walk on the moon - Neil Armstrong from Apollo 11 and Eugene Cernan from Apollo 17 - and James Lovell, who commanded the heroic Apollo 13 flight.
"Without the skill and experience that actual spacecraft operation provides, the USA is far too likely to be on a long downhill slide to
mediocrity," the letter said. "America must decide if it wishes to remain a leader in space. If it does, we should institute a program which will give us the very best chance of achieving that goal."