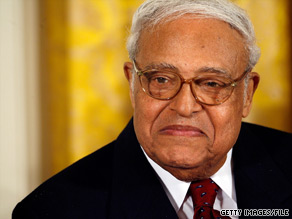 Civil rights leader Benjamin Hooks has died.
(CNN) - Benjamin L. Hooks, a civil rights leader who led the NAACP from 1977 to 1992, has died, said Leila McDowell, the vice president for communication at the NAACP.
The cause of death was not immediately known, McDowell said Thursday.
Hooks was "a vocal campaigner for civil rights in the United States," said the National Association for the Advancement of Colored People.
He was born in Memphis, Tennessee, in 1925 and grew up in the segregated South.