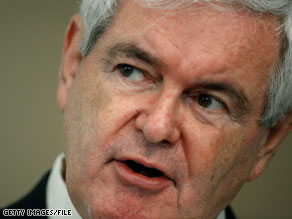 Newt Gingrich will endorse the 'Contract from America' on Thursday.
(CNN) - The man who made famous the "Contract for America" 16 years ago is signing on to a similar pact Thursday advanced by Tea Party activists.
Former House Speaker Newt Gingrich will become the first high-profile politician to endorse the so-called "Contract from America" later Thursday at an event in Austin, Texas.
The document, which included online solicitations and voting, was drafted by the Tea Party Patriots - one of the major factions in the anti-government spending, low tax movement.
The document is also set to be unveiled during a rally at the Washington monument Thursday evening.
Among the contract's provisions:
(1) Protect the Constitution, (2) Reject Cap & Trade, (3) Demand a Balanced Budget, (4) Enact Fundamental Tax Reform, (5) Restore Fiscal Responsibility and Constitutionally Limited Government in Washington, (6) End Runaway Government Spending, (7) Defund, Repeal and Replace Government-run Health Care, (8) Pass an 'All-of-the-Above' Energy Policy. (9) Stop the Pork, and (10) Stop the Tax Hikes.