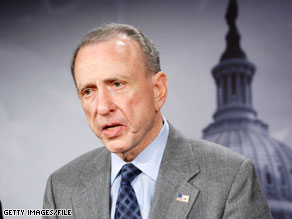 Sen. Arlen Specter was not able to match the fundraising pace set by Pat Toomey in the first quarter.
Washington (CNN) - According to fundraising numbers released Thursday by Sen. Arlen Specter's re-election campaign, the five-term senator raised only half as much cash as his probable Republican challenger in the first three months of 2010.
Specter, a Democrat, brought in $1.16 million in the first quarter, while his likely Republican opponent, Pat Toomey, reported a haul of $2.3 million over the same period.
Specter switched from the Republican to Democratic party in part because he did not want to face Toomey, the former president of the conservative group Club for Growth, in a primary challenge.
But Specter's campaign said the senator has $9.06 million cash on hand, far more than Toomey's reported $4 million.
Specter will have to defeat challenger Rep. Joe Sestak in the Democratic primary before facing Toomey, the presumptive Republican nominee.
A Franklin and Marshall College survey released March 24 indicates that a hypothetical race between Toomey and Specter is essentially tied, with Toomey's slight advantage falling within the poll's margin of error.