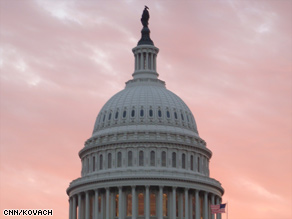 The CNN Washington Bureau's morning speed read of the top stories making news from around the country and the world.
WASHINGTON/POLITICAL
For the latest political news: www.CNNPolitics.com
CNN: Obama orders hospital visitation rights for gays, lesbians
President Obama has asked the Department of Health and Human Services to establish a rule that would prevent hospitals from denying visitation privileges to gay and lesbian partners. Obama requested that the regulation make clear that any hospital receiving Medicare and Medicaid funding, which includes the vast majority of U.S. hospitals, must allow patients to decide who can visit them and prohibit discrimination based on a variety of characteristics, including sexual orientation and gender identity.

New York Times: C.I.A. Document Details Destruction of Tapes
Porter J. Goss, the former director of the Central Intelligence Agency, in 2005 approved of the decision by one of his top aides to destroy dozens of videotapes documenting the brutal interrogation of two detainees, according to an internal C.I.A. document released Thursday. Shortly after the tapes were destroyed at the order of Jose A. Rodriguez Jr., then the head of the C.I.A.'s clandestine service, Mr. Goss told Mr. Rodriguez that he "agreed" with the decision, according to the document. He even joked after Mr. Rodriguez offered to "take the heat" for destroying the tapes.
Los Angeles Times: New rules on terror custody being drafted
The Obama administration is for the first time drafting classified guidelines to help the government determine whether newly captured terrorism suspects will be prosecuted or held indefinitely without trial, senior U.S. officials said. The draft document envisions that a small number of suspected terrorists captured in the future could be detained and interrogated in an overseas prison, several of the officials said. At least in the short term, Bagram air base in Afghanistan would be the most likely prison to hold the suspects, they said.
The Guardian: New cyber security chief warns of internet attacks
A general appointed by Barack Obama to ready US defences against cyber attacks has disclosed an alarming increase in activity by hackers and foreign countries, amounting to hundreds of thousands of attempted infiltrations daily. General Keith Alexander, who is to be the head of a new US command devoted to cyber security – Cybercom – was giving evidence to the Senate armed services committee yesterday. Having been slow to recognise potential risks from cyber attacks, the issue has jumped up the agenda and the Obama administration is planning to spend billions to protect US computer networks.
CNNMoney: Congress extends jobless benefits
Lawmakers voted Thursday to push back the deadline to file for extended unemployment benefits until June 2, a measure President Obama promptly signed into law. The measure restores federal unemployment benefits to more than 200,000 jobless Americans who started losing them on April 5 after lawmakers let that deadline pass. Checks would be retroactive to that date.
The Hill: Pressure is on holdout Sen. Collins
The fate of a Senate bill that would revamp the nation's financial regulatory system could hinge on a Republican centrist from Maine. Sen. Susan Collins (R-Maine) may end up being the deciding vote next week on a Democratic Wall Street reform plan touted by the White House. While Sen. Olympia Snowe (R-Maine) attracted the spotlight during the healthcare reform debate, Collins is the one being wooed by Republicans and Democrats on financial regulatory reform.
CNN: GOP Senator threatens Obama administration with subpoenas
A top GOP Senator promised Thursday to subpoena the Obama administration if they fail to provide information sought in a Congressional investigation into last November's mass shooting at Fort Hood. Sen. Susan Collins of Maine, the ranking Republican on the Senate Homeland Security Committee, said the Obama administration is "stonewalling" their investigation.
Miami Herald: In Florida, Obama finds give and take
Reconnecting to a state critical to his reelection, President Barack Obama on Thursday rounded up about $2.5 million in Miami for the Democratic Party and tried to mollify critics in both parties about plans to scale back - but not scrap - a space exploration program out of Cape Canavera. Obama's fourth trip to the nation's largest swing state in less than 16 months included a speech near the Kennedy Space Center historic launch pads that sent men to the moon, a more casual fundraiser at the Adrienne Arsht Center for the Performing Arts in downtown Miami and a cocktail reception hosted by Gloria andEmilio Estefan.
CQ Politics: House GOP: New Twist on a 'Contract'
House Republicans are launching a new effort to craft an election-year mission statement that appears to be part "Contract With America" and part "American Idol." GOP members said the ideas that will eventually become the basis for their initiative — the working title is the "Commitment to America" — will come largely from outside Washington and largely online, but they pledged that revamping the legislative process would be a top priority.
CNN: Tea Party names its heroes and targets
Leaders of the Tea Party Express marked Tax Day on Thursday by celebrating their efforts over the last year and unveiling a list of "heroes" and targets" ahead of the upcoming midterm elections.
Lexington Herald-Leader: Paul wants tea party movement to push for broader reform platform
Republican U.S. Senate candidate Rand Paul said he wants the tea party movement that has fueled his primary campaign to morph into a broader government reform effort that would have appeal beyond conservative circles. It was the first glimpse Paul has offered about his strategy to widen his appeal to Kentucky voters if he emerges as the GOP nominee May 18. Paul, a Bowling Green eye doctor and the son of former Republican presidential candidate and Texas U.S. Rep. Ron Paul, has led Secretary of State Trey Grayson in recent polls.
CNN: Former Wisconsin governor: I won't run for Senate
Former Wisconsin Gov. Tommy Thompson has decided against mounting a Senate bid, dealing a blow to Republicans who viewed him as the party's best chance to topple incumbent Democrat Russ Feingold.
CNN: Is Crist education bill veto a political indicator?
Florida Gov. Charlie Crist Thursday vetoed an education bill favored by state Republican lawmakers and grassroots conservatives. The legislation, considered one of the most far reaching in the country, would have made the process of firing Florida teachers easier. Teachers and many parents opposed the bill, which would have linked educators pay to student test scores. Some political watchers say that Crist's veto may be a signal that the governor is positioning himself as a centrist and giving up his bid against Marco Rubio for the Republican Senate nomination.
Fort-Myers News Press: Governor faces GOP backlash over decision
Gov. Charlie Crist downplayed the political ramifications of the teacher-tenure bill Thursday, but Republican leaders said his veto will hurt his U.S. Senate race. The veto cost Crist his campaign chair. Former U.S. Sen. Connie Mack III, Crist's political mentor and the father of Fort Myers U.S. Rep. Connie Mack IV, resigned Thursday night.
CNN: Battle intensifies for Murtha's former seat
With just over a month to go before the May 18 special election to fill the House seat formerly held by the late Rep. John Murtha, political ads are starting to light up the airwaves in Pennsylvania's 12th congressional district. Republican Tim Burns and Democrat Mark Critz are both being attacked in TV spots financed by national party committees.
The Detroit News: Michigan U.S. House reps have cash edge on challengers
The power of incumbency was on full display Thursday as Michigan's 12 House members seeking re-election filed reports showing huge money advantages over challengers. Michigan's congressional delegation faces a huge shakeup, with three open seats, two freshmen looking at competitive races, and several veteran incumbents being challenged.
Salt Lake Tribune: Bennett spends 20 times more than opponents
Sen. Bob Bennett has spent $2.5 million on his re-election bid, outspending his opponents 20 times over, as he fights to win a fourth term in the Senate. But Bennett's son and campaign spokesman, Jim Bennett, said a head-to-head comparison of spending is misleading, because outside groups, mainly the Washington-based Club For Growth, have poured hundreds of thousands of dollars into attacking Bennett. Bennett's campaign financial disclosure indicates there may well be more spending to come in the final weeks of the race. Bennett still had more than $1.1 million in the bank at the end of March to help him woo Republican delegates leading up to the May 8 state Republican convention.
San Jose Mercury News: Coming to a mailbox near you: Meg Whitman, the magazine
Most Californians have seen Meg Whitman's TV commercials at least a few dozen times. They've heard the GOP gubernatorial candidate's radio ads more often than they've heard the Geico gecko. And this week, nearly 500,000 Republican households across the state are getting free copies of Meg, the magazine. The Whitman campaign would not disclose the cost of the mailing, but campaign experts agreed it must have cost at least half a million dollars to print and mail out the magazine, which has also been sent to about 1,400 libraries across the state.
Minneapolis-St. Paul Star-Tribune: Pawlenty's PAC: Who's giving?
When it comes to exploring a run for president, Minnesota Gov. Tim Pawlenty is counting heavily on the interests of out-of-state residents, especially investment bankers. About 58 percent of the nearly $566,000 contributed in the first three months of this year to Pawlenty's Freedom First political action committee came from people living outside Minnesota, according to Federal Election Commission reports filed Thursday.
NATIONAL
For the latest national news: www.CNN.com
CNN: Obama criticizes mine owner, orders safety review
President Obama on Thursday ordered a review of mines with poor safety records and criticized the owner of a West Virginia coal mine where an explosion killed 29 people last week. The April 5 blast was the worst U.S. mine disaster in nearly 40 years.

CNN: Charges dropped against 9 American missionaries in Haiti
Charges have been dropped against nine of the American missionaries held in Haiti earlier this year, according to a spokesman for Idaho Sen. Jim Risch.

Wall Street Journal: Immigration Raid Targets Vast Network
More than 800 federal agents fanned out across Arizona and other states Thursday to dismantle a loosely connected network that allegedly transported thousands of illegal immigrants from the Mexico border to cities across the U.S.

INTERNATIONAL
For the latest international news: http://edition.cnn.com
New York Times: Taliban Seen Behind 2 Car Bomb Attacks in Downtown Kandahar
Militants exploded two car bombs in downtown Kandahar on Thursday evening, killing at least 2 people and wounding 23, local officials said.The Kandahar attacks seemed to be the latest effort by the Taliban to show their strength in the city that is the spiritual home of the movement, before a NATO and American operation begins in full force this summer to try to take control of the area.
McClatchy: Have Iran and its allies been passing phony $100 bills in Iraq?
At least $4 million in counterfeit U.S. currency has flooded into Iraq since December, and U.S. and Iraqi officials are trying to determine how much of the counterfeiting is purely criminal and how much might be an Iranian attempt to influence Iraqi politics. While some of the bills were crudely made and easily detected, U.S. military officials said, much of the money seized so far has been sophisticated fake hundred-dollar notes that require special printing presses, ink and paper. In the Middle East, such capabilities typically belong to Iran and its proxies, notably branches of the Lebanese Shiite Muslim militant group Hezbollah, the officers said, citing recent briefings from the U.S. Secret Service.
CNN: Ousted Kyrgyz president quits, leaves country
Ousted Kyrgyz President Kurmanbek Bakiev left the country and resigned Thursday after negotiations among the government, the president, and international states and agencies. The Kazakh Foreign Ministry said a plane carrying Bakiev had landed in Taraz, a town in bordering Kazakhstan. An official in the interim Kyrgyz government, Edil Basilyev, a senior adviser to interim government chairwoman Roza Otunbayeva, said Bakiev had resigned.

CNN: Thai government forces surround anti-government leaders
Three anti-government protest leaders evaded Thai security authorities after forces surrounded a Bangkok hotel Friday. In a bold escape, the men were lowered from a third-floor window and fled in a waiting truck as security forces searched the hotel. Police said two officers left with them to carry out negotiations - a development officials with the protesters confirmed.

CNN: U.N. report: Benazir Bhutto's assassination was preventable
Pakistan's military-led government failed to protect former Prime Minister Benazir Bhutto before her 2007 assassination, and intelligence agencies hindered the subsequent investigation, a U.N. commission concluded Thursday.

CNN: Death toll from China earthquake reaches 760
The death toll from the 6.9-magnitude quake that struck China earlier this week rose Thursday to 760, with more than 11,000 injured, state-run Xinhua news agency reported, citing Yushu Earthquake Relief Headquarters. The relief headquarter said there were 234 people missing after Wednesday's earthquake, Xinhua reported. Of the injured, 1,174 suffered severe injuries, Xinhua reported, and 4,200 have been treated and released from the hospital.

Washington Post: U.S. bishops tracking abuse claims against foreign priests
For the first time, American Catholic bishops have begun tracking complaints of sexual abuse against foreign-trained priests working in this country, raising questions about the screening process in place in U.S. dioceses. In the U.S. bishops' most recent annual survey, church officials reported that of the 21 clergy sex abuse complaints made in 2009 by minors, nine involved priests sent by overseas dioceses. The information comes when the U.S. church is importing hundreds of priests and has been under intense scrutiny for its handling of sex abuse cases, including the movement of abusers from one country to another.
CNN: Volcanic ash causes travel chaos for second day
Volcanic ash from Iceland snarled air traffic across Europe for a second straight day Friday, causing the cancellation of thousands of flights, according to the intergovernmental body that manages European air travel.
BUSINESS
For the latest business news: www.CNNMoney.com
Financial Times: Greece takes key step towards rescue
Greece capitulated to market pressure on Thursday and took an important step towards a bail-out from its eurozone partners and the International Monetary Fund as it formally sought "consultations" over a €30bn-plus ($40bn, £26bn) loan package to stave off default. In a letter to the European Commission, Greece's finance minister, George Papaconstantinou, said Athens wanted to discuss "a multi-year economic policy programme with the Commission, the European Central Bank and the International Monetary Fund".
Wall Street Journal: Tragic Flaw: Graft Feeds Greek Crisis
Behind the budget crisis roiling Greece lies a riddle: Why does the state spend so lavishly but collect taxes so poorly? Many Greeks say the answer needs only two words: fakelaki and rousfeti. Fakelaki is the Greek for "little envelopes," the bribes that affect everyone from hospital patients to fishmongers. Rousfeti means expensive political favors, which pervade everything from hiring teachers to property deals with Greek Orthodox monks. Together, these traditions of corruption and cronyism have produced a state that is both bloated and malnourished, and a crisis of confidence that is shaking all of Europe.

New York Times: Debt Worries Shift to Portugal, Spurred by Rising Bond Rates
Next target: Portugal. Speculators have begun to zero in on another small member of Europe's troubled monetary zone, highlighting the same economic flaw that brought Greece to the verge of insolvency: a chronically low savings rate that forces a reliance on the now-diminishing appetite of foreign investors to finance persistent deficits.
Wall Street Journal: Troubles Mount For Ex-Car Czar
Steven Rattner, the famed Wall Street deal maker and former Obama administration car czar, came under fire from his long-time business partners for what they called "unethical" efforts to win a $100 million investment for their private-equity firm, Quadrangle Group.The matter has cast a cloud over Mr. Rattner, who returned to New York last summer after a five-month stint in Washington leading the Obama administration's restructuring of the U.S. auto industry.

Bloomberg: Hewlett-Packard Faces SEC Inquiry on Europe Payments
U.S. regulators are examining whether Hewlett-Packard Co. employees made improper payments to foreign officials to win business, widening probes underway in Europe. Hewlett-Packard, the largest personal computer and printer maker, said today it has talked with the Securities and Exchange Commission after its Moscow offices were searched yesterday in a possible bribery investigation. The company said it is cooperating with authorities in the U.S., Russia and Germany.
In Case You Missed It
Slowly but surely, Tea Partiers and Republicans forge ties, but some are skeptical. CNN's Jim Acosta reports.
Subscribe to the CNN=Politics DAILY podcast at http://http://www.cnn.com/politicalpodcast
And now stay posted on the latest from the campaign trail by downloading the CNN=Politics SCREENSAVER at http://http://www.CNN.com/situationroom