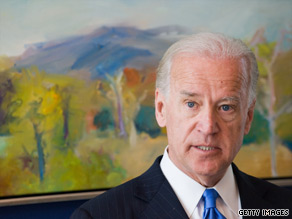 Vice President Joe Biden will appear on 'The View' on Thursday.
New York (CNN) - Joe Biden checks in with the ladies on "The View" Thursday in an appearance that could spur some lively debate or another vice presidential gaffe.
"The Vice President's appearance is part of our 'Red, White & View' campaign, continuing our commitment to political guests and discussions," said a statement from Barbara Walters and Bill Geddie, executive producers of the show.
Fresh off the passage of the health care reform bill, and with his boss, President Barack Obama, in town to call on Wall Street to support his reform efforts for the financial sector, Biden should have plenty of fodder for the talk show.
The show's most conservative host, Elisabeth Hasselbeck, might be expected to lock horns with Biden on any number of issues.
The then-senator first appeared on the show September 24, 2007 - during his bid for the White House - to promote his book "Promises To Keep: On Life and Politics."
In addition, the vice president will sometimes create his own unintentional controversies.
Biden was caught on TV dropping the f-bomb at the White House signing of the health care reform bill last month. "This is a big f-ing deal," he told Obama after announcing him at the podium.
And in a 2008 interview with Katie Couric, Biden likened the then-budding financial crisis to the market crash of 1929.
"Franklin Roosevelt got on the television and didn't just talk about the princes of greed. He said, 'Look, here's what happened,'" the vice president said.
Unfortunately for Biden, FDR didn't become president until 1933.