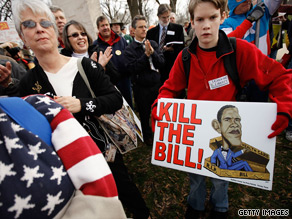 A new report puts the number of Tea Party activists at 67,000.
Washington (CNN) – A new report by a nonprofit organization estimates that there are 67,000 Tea Party activists throughout the country, which is at odds with estimates by a handful of conservatives including Republican National Committee Chairman Michael Steele.
Dante Chinni, a correspondent for Patchwork Nation, told CNN that they have determined most of the Tea Party activists reside in reliably Republican districts, rural or agricultural areas, wealthy suburbs and what they call "military bastions" located near U.S. military bases. Patchwork Nation, which was launched by the Christian Science Monitor and funded by the Knight Foundation, arrived at 67,000 by poring over publicly available information to identify people who actually registered with Tea Party organizations.
Chinni told CNN the figure does not include people who may sympathize with or support the Tea Party movement.
"Is this a complete list of everybody? No," Chinni said. "I think … there's probably maybe 10,000-to-12,000 total that we've missed."
Yet Chinni insisted that, "this is the overwhelming majority of registered Tea party members."
Patchwork Nation's Tea Party member estimate is dramatically lower than one recently offered by Steele.
In a speech to Chicago college students, Steele said Tea Party activists make up "a third or more" of the voting age population.
If Steele's estimate is true, that would mean roughly 77 million Americans support the Tea Party.
Regarding Steele's estimate, Chinni told CNN, "If he's got numbers to show that…I'd really be curious to see them."
"I don't know if they actually exist," Chinni said.
CNN contacted the RNC to inquire about what information Steele may have used for his estimate.
"The Tea Party movement grows with each passing day, as President Obama and Congressional Democrats refuse to listen to the America people," RNC Director of Media Affairs LeRoy Coleman said in a statement.
Coleman added, "We are listening, and we welcome their message: No more big government, tax and spend policies."
Mark Williams, chairman of the "Tea Party Express 3" tour, would not specifically sign on to Steele's estimate, telling CNN, "that would be huge."
He told CNN some 350,000 people have signed up for email and other internet communications from the Tea Party movement.
Updated: 7:47 p.m.