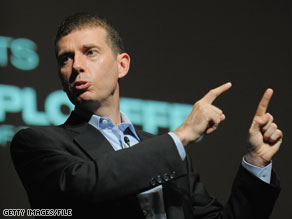 David Plouffe will headline a rally and fundraiser in New Hampshire on Friday for Democratic Senate candidate Paul Hodes.
Washington (CNN) - President Obama's campaign manager David Plouffe heads to Manchester, New Hampshire Friday to headline a rally and a fundraiser for Democratic Senate candidate Paul Hodes.
Hodes is one of the state's two congressmen and he does not face a challenge in the September primary for the open Senate seat. The seat is being vacated by Republican Sen. Judd Gregg, who is retiring at the end of the year.
"David knows the Granite State well," Hodes spokesman Matt House said. "Paul Hodes is fighting to create jobs and rebuild the middle-class, and we're thrilled to have David back in New Hampshire to support Paul's campaign for the US Senate."
A WMUR/University of New Hampshire Granite State Poll conducted in early February showed that Hodes trails Republican Kelly Ayotte in a November hypothetical match-up, but leads three other GOP candidates in the same survey.
Obama lost the New Hampshire presidential primary in 2008 to then-New York Sen. Hillary Clinton, but easily beat Arizona Sen. John McCain there in the November general election.