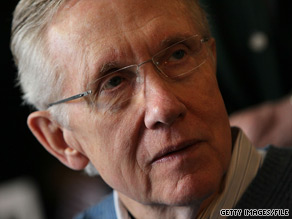 Senate Majority Leader Harry Reid has been criticized for holding a fundraiser with Goldman Sachs executives.
Washington (CNN) - They do well with Wall Street, but Democrats may now risk biting the hand that feeds many of them as President Obama and top party leaders press for financial reform.
And a key question arises: Will there be a squeeze on the money flowing from New York into Democrats' campaign coffers?
The answer is not so simple.
"Can we predict the future? Of course not. If legislation is passed that is particularly onerous to this industry [that] might change its tune," said Dave Levinthal with the nonpartisan Center for Responsive Politics and OpenSecrets.org. "That's entirely possible, but there's no indication of that yet."