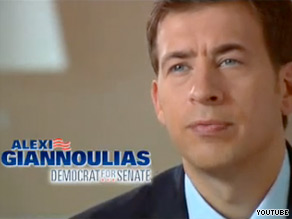 Illinois Treasurer Alexi Giannoulias is up Monday with his first television commercial in the battle for President Obama's old Senate seat.
(CNN) - The battle for President Barack Obama's old Senate seat is heating up.
Illinois Treasurer Alexi Giannoulias, the Democratic nominee in the race, is up Monday with his first television commercial in the general election. The ad comes out as Giannoulias deals with the collapse last week of his family's bank.
In the 60 second commercial, which his campaign says will run statewide in Illinois, Giannoulias says his family's bank helped thousands of people over the years.
"I was very proud to be a part of it, and when I left, over four years ago, it was in good shape. But no one could have foreseen these problems," says Giannoulias in the ad.
Later in the commercial, the narrator criticizes the Republican nominee in the race, Rep. Mark Kirk.
"Mark Kirk doesn't get it. First he votes for the Bush policies that got us into this mess, including tax breaks that shipped jobs to China. Then Kirk has the nerve to vote against extending unemployment benefits, saying unemployment isn't a big issue," says the narrator.
Broadway Bank was shut down Friday by regulators after the Giannoulias family was unable to raise the money to keep the bank open. Candidate Giannoulias has been pelted by questions over the controversies surrounding his family's bank.
The Kirk campaign, in a press release, recently criticized the Giannoulias family for the bank's troubles. Last month his campaign went up with television ads touting the five-term congressman as "independent minded."
Sen. Roland Burris, who in a controversial move was named by now-ousted Illinois Gov. Rod Blagojevich to replace Obama in the Senate, is not running this year for a full term in office. Charlie Cook and Stuart Rothenberg, two well respected non-partisan political handicappers, both rate the race between Giannoulias and Kirk a toss up.
–Follow Paul Steinhauser on Twitter: @psteinhausercnn