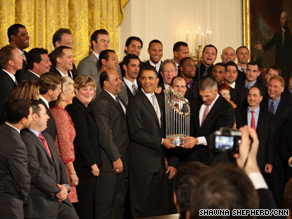 President Obama met with the New York Yankees Monday at the White House.
Washington (CNN) - President Obama, a diehard Chicago White Sox fan, praised the New York Yankees for their dedication to their sport and community on Monday, but couldn't resist taking a few shots at the franchise that last year captured its 27th World Series title.
"It's been nine years since your last title, which must have felt like an eternity for Yankees fans," Obama told the team at a White House ceremony. "I think other teams would be just fine with a spell like that, the Cubs, for example. This is a team that goes down to spring training every year expecting to win it all, and more often than not, you guys get pretty close. Of course, if I had [Yankees pitcher Mariano] Rivera, I'd get pretty close too."
Obama acknowledged the Yankees superiority in 2009, but warned the current team, which includes a slew of first ballot Hall of Famers, not to grow complacent.
"For a White Sox fan like me, it's painful to watch Mariano's cutter when it's against my team, or to see the Yankees wrap up the pennant while the Sox are struggling on the South Side. Although I do remember 2005, people, so don't get too comfortable," Obama said, alluding to the most recent White Sox World Series title.
Obama hosted the Bronx Bombers in the East Room, and singled out first baseman Mark Teixeira, shortstop Derek Jeter, catcher Jorge Posada and manager Joe Girardi for their dedication to public service.
"[W]hat people tend to forget - especially after watching their teams lose - is that being a Yankee is as much about character as it is about performance; as much about who you are as what you do," Obama said.
Following Obama's remarks, Girardi presented Obama with a number 27 Yankees jersey, autographed by the team.