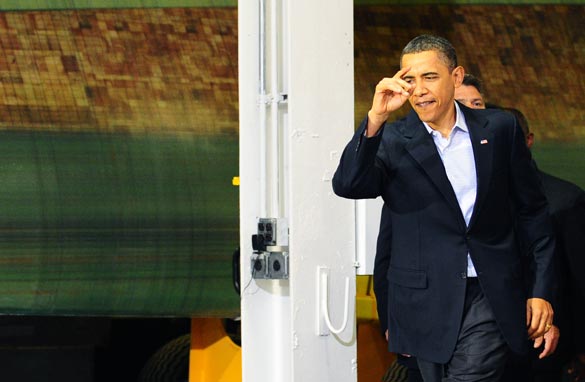 Obama traveled to Iowa Tuesday, but the campaign for 2012 has yet to begin, the White House said.  (Getty Images)
Ottumwa, Iowa (CNN) - President Obama may be focusing on the 2010 midterm elections, but the White House says don't look for any 2012 campaigning - yet.
On the way to Iowa for Obama's third visit to the state since taking office, White House Deputy Press Secretary Bill Burton was asked if the president is getting an early start on the 2012 reelection campaign in Iowa.
"God, I hope it's not," Burton told the traveling press aboard Air Force One.
At an event in Ft. Madison, Iowa, the president himself was asked, "Why Iowa today?"
His response? "I love Iowa!"
Obama's two day trip to Iowa, Indiana, and Missouri includes stops at an alternative energy plant and a family farm, where the president will have a "kitchen table" discussion with the family - an event that is often characteristic of a presidential candidate on the stump.
Obama released a nearly-three minute video on Monday urging Democrats to start working on the 2010 midterm elections to ensure the party retains control of both houses.
"It will be up to each of you to make sure that the young people, African-Americans, Latinos, and women who powered our victory in 2008 stand together once again," Obama said in the video that was sent to the 13 million members of his presidential campaign action committee, Organizing for America.
While urging his supporters to start focusing on the 2010 campaign, Obama warned opponents would seize the opportunity to undo his administration's accomplishments, including health care.
"They see these elections as a chance to put their allies back in power, and undo all that we have accomplished. So this year, I need your help once more," he said in the video.