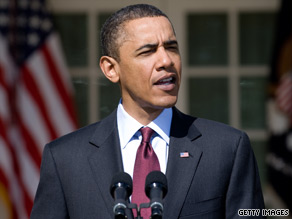 The National Commission on Fiscal Responsibility and Reform held its first meeting Tuesday.
Washington (CNN) - President Barack Obama said Tuesday that "everything has to be on the table" when it comes to the issue of controlling the skyrocketing federal budget deficit. He refused, however, to say exactly which programs may be cut in the name of fiscal responsibility.
The president's remarks came as an 18-member bipartisan debt commission - the National Commission on Fiscal Responsibility and Reform - held its first meeting.
The commission is co-chaired by former Sen. Alan Simpson, R-Wyoming, and Erskine Bowles, who served as President Bill Clinton's chief of staff.
The federal deficit has exploded in part due to "decades of bad habits in Washington," Obama said at the White House. Political leaders have "deferred politically difficult decisions," he said. They have to take a "hard look at the growing gap" between tax revenues and expenditures.
The commission has been given the task of bringing the skyrocketing federal budget down to 3 percent of the country's Gross Domestic Product by 2015. Currently the deficit is on track to be 6 percent of GDP by that year.
Budget analysts have indicated that putting the federal budget on a more sustainable long-term course will require new measures to contain Medicare, Medicaid and Social Security costs. Those three programs plus interest on the nation's debt are currently on track to consume 93 percent of all federal tax dollars collected by 2020, according to estimates from the Government Accountability Office.
The commission is supposed to produce a report for the president by December 1. In order for the group to make official recommendations to Congress, 14 of the commission's 18 members must approve them.
- CNN's Jeanne Sahadi and Alan Silverleib contributed to this report