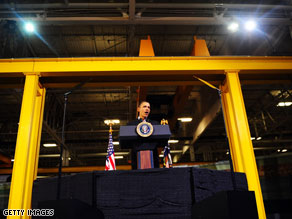 President Obama visited a Siemens wind turbine plant in Iowa on Tuesday.
Fort Madison, Iowa (CNN) - President Barack Obama took his renewable energy push to the heartland Tuesday, trumpeting the merits of wind power during a visit to the state that launched him on the road to the White House a little over two years ago.
Obama's visit to the Siemens wind turbine blade manufacturing plant in Fort Madison, Iowa, was the latest stop in his "White House to Main Street" tour - part of the president's pitch to middle-class workers hurt by the economic downturn.
"Lately, we've been able to report some welcome news after a hard two years. Our economy is finally growing again," Obama told workers at the plant.
But "times are still tough for middle-class Americans, who had been swimming against the current for years before the economic tidal wave hit."

While in Iowa, the president also is scheduled to tour a local business in Mount Pleasant and host a town hall meeting at Indian Hills Community College in Ottumwa.
At each stop, Obama is slated to meet with workers, farmers, small-business owners, and local leaders "to share ideas for continuing to grow the economy and to put Americans back to work," the White House said in a news release.
"The country that leads the clean energy economy will be the country that leads the 21st century global economy," Obama said. "I don't accept second place for the United States of America. That's why our energy security has been a top priority for my administration since the day I took office."
The president cited his controversial $862 billion economic stimulus plan, which passed over solid GOP opposition early last year. The measure helped reverse the economic downturn and will create or save more than 700,000 jobs by 2012, he claimed.
It will do so in part by funding larger investments in renewable energy projects, according to the administration. Obama claimed that, if the proper investments are made, wind could generate up to 20 percent of America's energy two decades from now.
"Wind power isn't the silver bullet that will solve all our energy challenges," he said. "There isn't one. But it is a key part of a comprehensive strategy to move us from an economy that runs on fossil fuels to
one that relies on more homegrown fuels and clean energy."
Republicans have repeatedly slammed the economic stimulus plan, characterizing it as a pork-laden bill that failed to prevent unemployment from rising.
Obama is scheduled to spend Tuesday night in Des Moines, Iowa, resting up for stops Wednesday in Illinois and Missouri.
–CNN's Paul Steinhauser and Alan Silverleib contributed to this report.