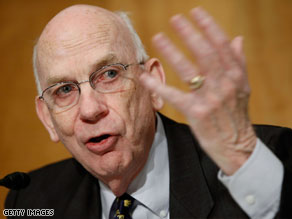 Two new polls suggest Sen. Bob Bennett faces an uphill battle in Utah.
(CNN) - Two new polls suggest that Sen. Bob Bennett's fighting for his political life.
As the incumbent Utah Republican battles for re-election this year, he needs to win at least 40 percent of the vote of the 3,500 delegates attending the state GOP convention on May 18, to advance to a June primary.
But a new Salt Lake Tribune survey of 400 of those Republican delegates, released Tuesday, indicates that only 16 percent of them are supporting the three-term senator, putting Bennett in third place.
According to the poll conducted April 22-25 by Mason Dixon Polling and Research, challengers Mike Lee, with 37 percent, and Tim Bridgewater, with 20 percent, lead Bennett.
A June primary in the battle for the senate nomination will be avoided if any of the candidates receives 60 percent of the delegates vote at the state party convention.
While it's a tough year for any incumbent running for re-election, the conservative Bennett upset many on the right with his 2008 vote in favor of the federal bailout of large banks and financial institutions. The fiscally conservative Club for Growth has been actively working to defeat Bennett, as have some Tea Party organizations.
The poll indicates that only 28 percent of the GOP delegates have a positive view of the senator, with more than six in ten viewing him unfavorably. The survey, of 400 delegates to the Utah Republican party convention, has a sampling error of 4.4 percentage points.
The Salt Lake Tribune poll follows another recent survey that also indicates a tough re-election bid for Bennett. A Dan Jones and Associates poll conducted for KSL and the Deseret News indicated that nearly 60 percent of the 526 GOP convention delegates questioned didn't think Bennett deserved re-election. But the poll did indicate that Bennett was in second place, with the backing of 21 percent of delegates.
In an interview with the Salt Lake Tribune, Bennett said his campaign's internal tracking polls showed "a great deal of volatility" among convention delegates.
"The only real conclusion we can come to is that the race is still very volatile and people are changing their minds," Bennett told the newspaper.
"Senator Bennett's objective is to get out of convention and give Republican primary voters an opportunity to have their voices heard. There is still a lot of volatility in this process and we remain confident," adds Jim Bennett, a spokesman for the campaign.
In a state overwhelmingly dominated by the Republican party, whoever wins the party's nomination will be considered the overwhelming favorite in November's general election.
Follow Paul Steinhauser on Twitter: @psteinhausercnn