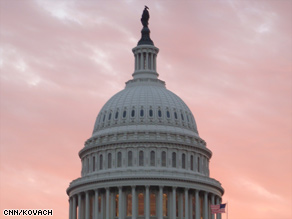 The CNN Washington Bureau's morning speed read of the top stories making news from around the country and the world.
WASHINGTON/POLITICAL
For the latest political news: www.CNNPolitics.com
CNNMoney: Goldman execs: We didn't do anything wrong
Top Goldman Sachs representatives - including CEO Lloyd Blankfein - attempted to deflect criticism Tuesday as they faced a blistering cross-examination from lawmakers about the firm's role in the financial crisis. For more than ten hours, members of a Senate panel skewered current and former executives at Wall Street's top firm with pointed questions and criticisms in an effort to understand how Goldman had positioned itself just as the nation's housing market started to come unraveled in 2007.
CNN: Obama calls out Republicans over Wall Street reform
Saying Republican senators are preventing a legislative debate the American people deserve, President Obama called out the GOP at an Iowa rally Tuesday. For the second time in as many days, Senate Republics blocked efforts Tuesday to move the debate forward on a financial reform bill because, in the GOP's view, there needs to be more focus on making sure there are no loopholes for banks to be "bailed out" in the future.
CNN: Senate Republican may switch vote and back debate on bill
After Senate Democrats' second consecutive failed attempt Tuesday to take up a financial regulatory reform bill, a moderate Republican from Ohio indicated for the first time that he is planning to switch his vote and support opening debate on the bill if a deal isn't reached soon between the top negotiators for each party.
New York Post: Suddenly, Bloomberg is a big Schumer booster
Making nice with Sen. Schumer is now Job 1 at City Hall. At Mayor Bloomberg's press conference today, a reporter began a question about Israel by asking, "Do you agree with Sen. Schumer..." Before the reporter could complete the sentence, the mayor interjected, " Yes. Next question." It was a light-heartened response that got some laughs, but it also conveyed a message: Bloomberg is eager to make-up with Schumer after publicly berating the city's congressional delegation for not doing enough to shield the financial industry from onerous regulations.
New York Times: For 2 Parties, Immigration Poses Complex Test
The immigration flare-up that has engulfed Washington has emerged as a political challenge for Republicans and Democrats alike as they struggle to deal with the complexities and emotions of an issue that is scrambling party and geographic lines. On Tuesday, two prominent Republicans in Florida, another state with a big immigrant population — Jeb Bush, the former governor, and Marco Rubio, a candidate for the Senate — expressed reservations about the Arizona law, even as other Republican lawmakers supported it.
CNN: Arizona law 'poorly conceived,' says Obama
President Obama spoke more extensively on the Arizona immigration bill on Tuesday, taking a question during a rally at Indian Hills Community College in Ottumwa Iowa. Obama criticized the recently passed Arizona immigration bill, calling it "poorly conceived."
Arizona Republic: Arizona's immigration law has ripple effect
Arizona's tough new immigration law has spawned calls for boycotts, a travel warning from Mexico to its citizens and a possible federal lawsuit, but a key Republican senator said Tuesday that it is not likely to result in comprehensive immigration reform this year. South Carolina Sen. Lindsey Graham had been the lone GOP senator supporting reform, but he said it appears a reform bill must wait until 2012 to gain enough public and political support to pass. A reform bill could not pass without bipartisan support.
CNN: Specter enlists Michael J. Fox for new ad
Sen. Arlen Specter released a new campaign ad Tuesday featuring actor Michael J. Fox. The ad touts the five-term senator's support for medical research. Specter, who one year ago switched parties and became a Democrat, will face off in the Democratic primary against Rep. Joe Sestak; former Rep. Pat Toomey is the presumptive Republican Senate nominee.
CNN: Cahill responds to GOP ad blitz in Massachusetts
Massachusetts gubernatorial hopeful Tim Cahill, an independent, responded Tuesday to a barrage of new ads directed at him by Republicans. Cahill's independent bid is setting up a three-way contest between Republican Charlie Baker and the state's incumbent governor Democrat Deval Patrick. In an effort to support Baker, the Republican Governors Association launched a television, radio, and internet ad blitz, as well as a new website Tuesday – all of which focus on Cahill's stewardship of taxpayer dollars.
The Boston Globe: Active campaign shapes up for Republicans
Yesterday marked the deadline for legislative candidates to submit voter signatures to qualify for the ballot [in the Massachusetts Senate race]. The final tally of candidates will not be known for a few weeks, but more than 500 took out qualifying papers in recent months, according to an informal list maintained by the secretary of state, a sign of what is likely to be an active campaign season. Democrats, many of whom have run unopposed in past elections, say they are up for the challenge. They even say they welcome the prospect of active primaries, which they say will help them present stronger candidates.
CNN: Coats releases new ad, loans campaign $200,000
Indiana Senate hopeful Dan Coats went on the air Tuesday with his second television ad of the Republican primary season, the same day it was revealed he loaned his campaign $200,000. Coats, who served in the Senate between 1989 and 1999, is hoping to return to Washington, but faces fellow Republicans John Hostettler and Marlin Stutzman in the GOP primary.
Salt Lake Tribune: Poll stunner: Bennett on brink of defeat
Unless Sen. Bob Bennett's political fortunes change dramatically in the next two weeks, he could become Utah's first incumbent U.S. senator to lose his party's nomination in seven decades. A new Salt Lake Tribune poll of Republican delegates shows Bennett running in third, behind GOP challengers Mike Lee and Tim Bridgewater. And in a Republican race where only two can survive, that would spell the end for the three-term senator.
CQ Politics: GOP Leaving No Footprint in Hawaii
National Republicans are taking a page from the Senate GOP playbook in Massachusetts by appearing to keep out of the upcoming special House election in Hawaii. In traditionally Democratic states like Hawaii and Massachusetts, visible intervention from the national GOP doesn't help candidates like Honolulu City Councilman Charles Djou (R), who is waging a competitive campaign in the May 22 special election in a district that gave President Barack Obama 70 percent of the vote two years ago. What's more, outside intervention can be a particularly sensitive matter in Hawaii politics — meaning that often the best thing party leaders can do for candidates is appear as if they are staying far away from the campaigns.
Charleston Post and Courier: Haley looks to make state electoral history
Haley, R-Lexington, is the only woman running for governor. But Haley also made it clear that she's not expecting her gender alone to win her many votes. Haley can be considered a long shot, since she trails in fundraising and has a more limited political resume than her opponents. She also is considered the political heir apparent to Gov. Mark Sanford - his ex-wife Jenny has endorsed her - but she doesn't mention the Sanfords [at campaign events]. His revelations of an Argentinian mistress and an extensive ethics probe have eroded his political sway.
Wall Street Journal: GOP Pins Comeback Hopes On Recapturing Suburbs
Republicans are now banking on a voter backlash to regain control of these vital suburban battlegrounds, which include Fairfax and 23 former Republican strongholds. Their prime target: independents who voted for Democrats last time but who are now wary about the new health-care law, the state of the economy and the rising national debt. Suburban districts now determine who holds the House, and usually the presidency as well. About half the country's population is now considered suburban, up from roughly a third in 1980. Two hundred and twenty of the 435 congressional districts are predominantly suburban, according to a 2005 study by Congressional Quarterly.
The Hill: Administration only partially complies with Ft. Hood subpoenas
The Obama administration has only partially complied with congressional subpoenas for information on the deadly November shootings at Fort Hood, Texas. The failure by the Defense and Justice departments to turn over all the requested documentation — which they say they do not intend to do — is not likely to ease the growing tension between some key senators and the Obama administration over the incident at the Army base on Nov. 5, 2009.
Los Angeles Times: Sen. Lindsey Graham's bipartisan efforts bog down
For months, Sen. Lindsey Graham of South Carolina was one of the few Republicans willing to cross the aisle to work with the Obama administration on controversial issues. Now, he may be the showcase example of why bipartisanship is all but dead in Washington. In the beginning, Graham's attempts to find compromises with Obama and Senate Democrats on immigration, energy and closing Guantanamo Bay looked like the best chance for a thaw in Washington's icy partisan environment. But now, under attack from colleagues and activists in both parties, Graham is threatening to chuck the whole effort. That potentially dooms prospects for congressional action this year on energy and immigration, as well as the likelihood of widespread cooperation across party lines on most other issues.
NATIONAL
For the latest national news: www.CNN.com
CNN: Holder: Federal court challenge to new immigration law possible
A federal court challenge to a new Arizona law aimed at curbing illegal immigration isn't out of the question, Attorney General Eric Holder said Tuesday. Holder said that the Justice Department was working with the Department of Homeland Security to "decide exactly how we are going to react to it." Homeland Security Secretary Janet Napolitano, who served as Arizona's governor until she took the position with the Obama administration, told a Senate panel Tuesday that she has "deep concerns" with the law.
CNNMoney: Feds may set Gulf oil slick ablaze
Coast Guard officials are considering setting the Gulf of Mexico oil slick on fire as it moved Tuesday to within 20 miles of sensitive ecological areas in the Mississippi River Delta. Officials say it could become one of worst spills in U.S. history. BP, the well's owner, is racing to shut off the well using eight remote controlled submarines, but has had no luck as of yet.
New York Times: Strict Abortion Measures Enacted in Oklahoma
The Oklahoma Legislature voted Tuesday to override the governor's vetoes of two abortion measures, one of which requires women to undergo an ultrasound and listen to a detailed description of the fetus before getting an abortion. Opponents argue that the law will protect doctors who purposely mislead a woman to keep her from choosing an abortion. But the bill's sponsors maintain that it merely prevents lawsuits by people who wish, in hindsight, that the doctor had counseled them to abort a disabled child.
CNN: Obama to deliver eulogy at Height funeral
President Obama will deliver the eulogy Thursday at the funeral of civil rights leader Dorothy Height, White House spokesman Josh Earnest said Tuesday. Height's funeral is set for 10 a.m. ET Thursday at Washington National Cathedral. Height died last week at the age of 98.
CNN: Obama pushes for Wall Street reform on Main Street tour
Continuing to hit on environmental and economic topics, President Obama will wrap up his "White House to Main Street Tour" Wednesday with stops in Illinois and Missouri. Obama will tour a biorefining plant in Macon, Missouri, on Wednesday afternoon and talk with workers about economic issues, according to the White House. He was expected to discuss Wall Street reform during an appearance in Quincy, Illinois.
INTERNATIONAL
For the latest international news: http://edition.cnn.com
Bloomberg: Trichet on Mission to Berlin as Germans Balk at Greek Rescue
European Central Bank President Jean-Claude Trichet is on a diplomatic mission to Berlin as Germany's reluctance to bail out Greece helps fan a fiscal crisis now burning around the euro region's periphery. Trichet and International Monetary Fund Managing Director Dominique Strauss-Kahn will brief German parliamentary leaders in Berlin around noon today about the $60 billion aid package for Greece, which has met with opposition in Europe's biggest economy.
CNN: China lifts ban barring entry to foreigners with HIV and AIDS
The Chinese government has lifted a 20-year-old rule that banned foreigners with HIV and AIDs, sexually transmitted diseases and leprosy from entering the country, according to the country's state news agency. State-run news agency Xinhua reported Tuesday that China's State Council decided to repeal the ban after realizing it did little to prevent the spread of disease and caused problems when the country was hosting international events.
CNN: Report details allegations of torture at Iraqi secret prison
A report released Tuesday by a human rights group details allegations of horrific torture and abuse at a secret prison in Iraq where detainees say they were routinely beaten, shocked and sodomized by their interrogators. The report by Human Rights Watch was based on interviews conducted Monday with 42 prisoners who had been held at a secret facility in west Baghdad's old Muthanna airport since late 2009.
Bloomberg: Clegg Targets More Seats as Party Rise Suggests Hung Parliament
Liberal Democrat leader Nick Clegg said his party raised its target for the number of House of Commons seats it is trying to win in the May 6 U.K. election after it surged to second place in most opinion polls. Gains in seats by the Liberal Democrats increase the likelihood of a hung Parliament in which neither Prime Minister Gordon Brown's Labour Party nor the main opposition Conservatives would have a majority. That outcome may roil markets on concern that power sharing between parties would create a government too weak to fix Britain's finances.
CNN: Fists fly in Ukraine parliament punch up
Lawmakers in Ukraine scuffled with each other, throwing punches and eggs, as parliament met Tuesday to ratify a treaty with Russia that extends the latter's navy presence in the Ukraine's Crimean peninsula until 2042. The ruling Regions party eventually ratified the treaty but not before howls of protest from the opposition. Someone set off a smoke bomb inside the building, while Speaker Volodymyr Lytvyn sought refuge behind an umbrella as he was pelted with eggs.
BBC News: Hezbollah armed with improved missiles – US
The US defence secretary has warned that Hezbollah now has more rockets and missiles than most governments. Robert Gates accused Syria and Iran of supplying weapons of "ever-increasing capability" to the military wing of the Lebanese Shia Islamist movement.
Jerusalem Post: Israel won't honor outpost pledge
Despite a 2002 road map commitment and years of pledges by successive prime ministers including Binyamin Netanyahu, Israel has no intention in the foreseeable future of dismantling any of 23 unauthorized West Bank outposts built after March 2001, The Jerusalem Post has learned.
BBC News: Thai red-shirts defy troops with protest convoy
Hundreds of red-shirt protesters have formed a convoy to drive to a rally outside Bangkok, as Thailand's political stand-off continues. The protesters left their fortified camp in central Bangkok to drive to the site 50km (30 miles) away. Troops have fired warning shots despite a vow by protesters to break through their ranks if they are stopped.
BUSINESS
For the latest business news: www.CNNMoney.com
Wall Street Journal: Crisis Spreads in Europe
Europe's hopes of containing Greece's credit crisis dimmed as the country's debt woes spread to Portugal, sparking a selloff in markets across the globe and testing the European Union's ability to protect its common currency. The euro tumbled to its lowest point in a year against the dollar after Standard & Poor's Ratings Services cut Portugal's credit rating two notches and downgraded Greece's debt to "junk" territory, a first for a euro-zone member. The move is bound to worsen Greece's already dire fiscal situation and hamper a recovery. The news sent bond yields in both countries soaring, a sign of distress.
CNNMoney: 'Many difficult tradeoffs' on federal debt
Congress must craft a credible plan soon to bring spending in line with revenue to close the unsustainable fiscal gap threatening the economy, key policymakers urged Tuesday. Lawmakers must start within the next few years to reduce spending and raise more revenue, experts say. If they don't, public debt will hit 90% of GDP by 2020. And history shows that such debt levels can damage the economy.
Bloomberg Business Week: Goldman Sachs Emerges From Senate Showdown Ahead $549 Million
Goldman Sachs Group Inc. executives endured more than 10 hours of congressional grilling in one of the most public, and most hostile, political lashings in the firm's 141-year history. By day's end, the investment bank's market value had risen by $549 million.
Forbes: Ford posts $2.1 billion 1Q profit on strong sales
Ford Motor Co. said Tuesday it earned $2.1 billion in the first quarter, another sign the economy is improving as people spend more on big-ticket items like cars. The automaker expects to be solidly profitable this year, a year earlier than its previous guidance. Ford, the only Detroit-area automaker to shun government aid and stay out of bankruptcy protection last year, gained market share from crosstown rivals General Motors Co. and Chrysler Group LLC. It also benefited from the Toyota Motor Corp. safety recalls of millions of vehicles. Ford was one of the top brands considered by Toyota owners who were shopping for a new car, Kelley Blue Book said.
In Case You Missed It
A few thousand Lebanese take to the streets to call for a secular state. CNN's Octavia Nasr reports.
Sen. Schumer is outraged that Facebook can now share your information with other websites. CNN's Brian Todd reports.
Subscribe to the CNN=Politics DAILY podcast at http://www.cnn.com/politicalpodcast
And now stay posted on the latest from the campaign trail by downloading the CNN=Politics SCREENSAVER at http://www.CNN.com/situationroom