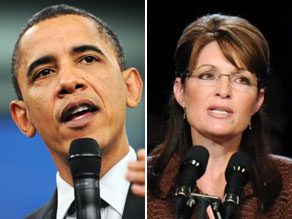 Former Alaska Gov. Sarah Palin and President Obama will both be in Michigan on Saturday.
(CNN) - President Barack Obama and former Alaska Gov. Sarah Palin will be just 50 miles apart on Saturday when both give speeches in Michigan.
The president is set to give the commencement address at the University of Michigan in Ann Arbor. Around the same time, Palin, the 2008 Republican vice presidential nominee, will speak to conservatives pushing for limited government and lower taxes at a "Defending the American Dream Summit" hosted by Americans for Prosperity Foundation.
Last fall, Palin visited Michigan to kick off the tour for her book "Going Rogue: An American Life."
During the presidential campaign, Palin took issue with running mate John McCain's decision to pull out of Michigan and move resources to other states. In her book, Palin says her opposition to the decision to abandon Michigan is when she first went "rogue." At the end of the book, on page 403, Palin says that Michigan can't be forgotten.
McCain ended up losing the state to Obama by 16 points in the presidential election in Michigan, but the state could be competitive in the next contest for the White House.
Follow Paul Steinhauser on Twitter: @psteinhausercnn