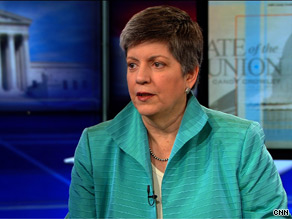 The law 'puts everybody at risk' by diverting attention of police and sheriffs from higher-priority crimes, Homeland Security Secretary and former Arizona Gov. Janet Napolitano told CNN.
Washington (CNN) - Arizona's controversial immigration law is a "cry of frustration" by state and local officials who need comprehensive federal immigration reform, Homeland Security Secretary Janet Napolitano said Sunday.
In appearances on morning talk shows, Napolitano criticized the law as a hindrance to law enforcement and said only an overall approach will work.
The law "puts everybody at risk" by diverting attention of police and sheriffs from higher-priority crimes, Napolitano told the CNN program "State of the Union."
"There was no surprise to me that experienced individuals like the Pima County sheriff, who is the longest standing sheriff in Arizona, he is in Tucson, 100 miles from the border, has said he doesn't want this new law, he doesn't need it, and he is not going to enforce it," Napolitano said.

On the ABC program "This Week," Napolitano noted that supporters of the law realized it needed to be changed.
"They've already amended the law over the course of the week, and so even the Arizona legislature is starting to recognize there are problems," Napolitano said, adding that it invited racial profiling.
"It's really a cry of frustration from Arizona," Napolitano said, adding that the frustration "that will only be solved with comprehensive immigration reform."
The new Arizona law requires immigrants to carry their alien registration documents at all times and requires police to question people if there is reason to suspect they are in the United States illegally.
Supporters say the law is needed to confront rising problems involving illegal immigrants in Arizona, particularly those with criminal records.
"Border security is national security," said J.D. Hayworth, a former U.S. congressman now challenging veteran Sen. John McCain in the Republican primary, on the CBS program "Face the Nation." "And it's not only illegals coming northward from Mexico. We've been getting Chinese. We've been getting people from the Middle East. There is a huge criminal component."
Critics say the law will lead to discrimination and racial profiling.
On Saturday, thousands of protesters in cities across the United States waved American flags as they rallied against the Arizona law.
"Si se puede" ("Yes we can") and "Boycott Arizona" were common refrains for groups protesting from Los Angeles, California, to New York City. In Washington, D.C, police arrested Rep. Luis Gutierrez, D-Illinois, at a rally outside the White House.
Hayworth said Sunday that opponents were distorting the law's intent and effects for political reasons.
"What's going on is a deliberate distortion to remove this from a question of enforcement to one of ethnicity," he said.
Gutierrez, also appearing on the CBS program, challenged Hayworth to support a comprehensive approach while simultaneously working to tighten the border.
"It's not working," Guttierez said of federal efforts in recent years to enhance border security, including more patrols and fences.
Arizona Gov. Jan Brewer said changes to the law that she approved Friday, which clarify that police could only stop suspected illegal immigrants while enforcing some other law or ordinance, should eliminate concerns about racial profiling.
However, New Mexico's Democratic Gov. Bill Richardson harshly rejected the bill.
"This law in Arizona is terrible," Richardson said on the NBC program "Meet the Press." "The administration needs to challenge it because its unconstitutional."
Without congressional action, Richardson said, "there's going to be an anti-immigration hysteria creeping up."
In response, Republican Sen. Lamar Alexander of Tennessee said on the same program that the Obama administration was to blame for shirking its responsibility of border security.
"That's his job. He's the commander in chief," Alexander said. "It's a federal responsibility. When the border is secure, then we can deal with people illegally here and how they become citizens or not."