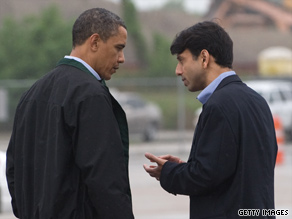 Upon touching down in the Gulf Coast region Sunday afternoon, the president spoke briefly with Louisiana's Republican Gov. Bobby Jindal before the two men headed off to Venice, Louisiana.
(CNN) - President Barack Obama traveled to Louisiana on Sunday to see for himself the growing oil slick from a damaged offshore well that threatens the U.S. Gulf Coast.
Obama arrived on Air Force One at Armstrong International Airport in New Orleans, then headed off by road with Louisiana Gov. Bobby Jindal for the two-hour drive to Venice, a staging ground for efforts to fight the growing slick.
Some of Obama's top officials said Sunday that the spill is a potential catastrophe and defended the administration's response so far against complaints it has reacted too slowly.
Appearing on CNN's "State of the Union," Homeland Security Secretary Janet Napolitano, Interior Secretary Ken Salazar and Adm. Thad Allen, the commandant of the Coast Guard, warned the leaking oil from a rig explosion could continue for weeks with dire consequences.
"It potentially is catastrophic," Salazar said. "I think we have to prepare for the worst."
Updated: 2:32 p.m.