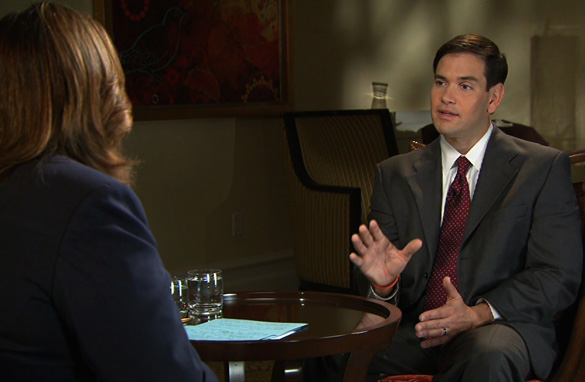 Florida Republican Marco Rubio sat down for a wide-ranging interview with CNN's Candy Crowley where the Senate candidate discussed Florida Gov. Charlie Crist, the GOP's past and future, and the Tea Party movement. (Photo Credit: CNN)
(CNN) - Having all but secured the Republican nomination for Florida's open Senate seat, Marco Rubio called his view of conservative principles well within the mainstream of U.S. political ideology and downplayed the decision of his one-time rival, Florida Gov. Charlie Crist, to abandon the GOP primary.
In an interview with CNN's "State of the Union" broadcast Sunday, Rubio said the decision by Crist to run an independent campaign in November instead of contesting the Republican primary was of little consequence to the GOP.

Watch: Rubio on Crist
"I don't think it means anything for Republicans in Florida," Rubio said. "Our party has never been about an individual. It's been, hopefully, about a set of principles and ideals - the idea of the free market - free enterprise system has made Americans the most prosperous people in the world - that our constitutional republic has made us the freest people in the history of the world. I've always felt that, that belief system finds its natural home in the Republican Party."
Polls showed that Crist, a moderate Republican, was trailing the more conservative Rubio in a head-to-head matchup.
Later: 'I'm much happier now,' says Crist
In the CNN interview, Rubio said his goal was to be part of a Republican resurgence that would present a viable alternative to the Obama administration and Democrats.
"The Republican Party needs to be not just the opposition," Rubio said. "I don't want to go to Washington and be the opposition. I want to be part of the alternative. And - and ultimately, why I think we've had success in the Republican primary so far is because we've offered not just the opportunity to be in opposition to the Obama administration, but an alternative on some very important issues."
At the same time, Rubio rejected the notion that his conservative views and support from right-wing circles are outside the political mainstream.
Related: Rubio is too far right for Florida, says Meek
"I'm not ever running away from the title" of conservative, Rubio said. "I think that limited government - conservatism, is what most Americans are. I think that's mainstream American thought." Rubio added, "I'm not an anarchist. I believe government has an important role to play in society. I just don't think it should play a dominant role. I don't believe government is the most important institution in society. I believe in entrepreneurship. I believe in the free market. I want to live in a country where people can open up a business in the spare bedroom of their home, even if it's in violation of the zoning code. I want them to be able to pursue their dreams."