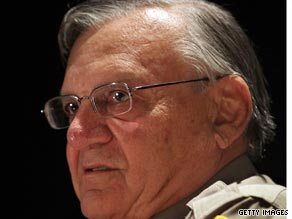 Sheriff Arpaio is contemplating a run for governor of Arizona.
PHOENIX, Arizona (CNN) - Joe Arpaio, the tough-talking and controversial Arizona sheriff from Maricopa County, may announce as early as Monday whether he will run for the governor's seat.
Responding to reports that he had made a decision, Arpaio firmly told reporters Friday that, "I am not running for governor now until I decide over the weekend with a glass of wine and my wife, since my mother and father came here from Italy, with a little spaghetti and meatballs."
"People want me to run for governor. Every day, around the nation.Everybody, here, they want me to run," he said. "I have to make a big decision this weekend."
His remarks followed a major raid in which 73 undocumented immigrants were taken into custody.
The sheriff - whose showy brand of justice has raised charges of discrimination and civil-rights abuses while making him a hero among fans of his tough-on-crime attitude - is a staunch supporter of Arizona's new
immigration law, which will allow police to demand proof of legal residency when it goes into effect in 90 days.
Arizona lawmakers say the law is needed because the federal government has failed to enforce border security with Mexico, allowing more than 450,000 illegal immigrants to move into the state. Critics say the law is unconstitutional and will lead to racial profiling, which is illegal.
Arizona Gov. Jan Brewer said changes to the law that she approved Friday,which clarify that police could only stop suspected illegal immigrants whileenforcing some other law or ordinance, should eliminate concerns about racialprofiling.
The Republican governor is seeking re-election.
Arpaio, whose county includes Phoenix, has cultivated his image as"America's Toughest Sheriff," a nickname earned by his treatment of Maricopa County inmates. Many of his prisoners are housed in tents and forced to wearpink underwear, and he once boasted of feeding them on less than a dollar aday.
He has faced off with the Justice Department and the American Civil Liberties Union of Arizona over concerns about the immigration raids conducted by his department. An ACLU class-action lawsuit alleges that Arpaio has abused the power delegated to him under his agreement with Homeland Security, known as the 287(g) program, which allowed his department to enforce federal immigration
laws.
Arpaio also briefly starred in the FOX reality show, "Smile: You're Under Arrest." The show featured Arpaio and other officers using elaborate ployscrafted by comedy writers and carried out by professional actors to arrest suspects with outstanding warrants.