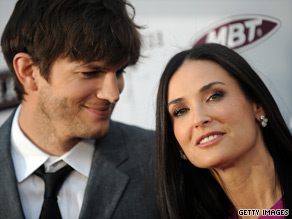 Washington (CNN) - Actress Demi Moore visited the White House on Tuesday to bring attention to the issue of domestic sex trafficking of children.
After earlier meetings with lawmakers on Capitol Hill, Moore went across town to discuss the topic with White House senior adviser Valerie Jarrett. The actress was accompanied to her various stops by three young women who were once sex slaves.
Moore and her husband, Ashton Kutcher, recently formed a non-profit group called "DNA" - The Demi and Ashton Foundation - with the goal of eliminating sexual enslavement.
According to the group's website, as many as 300,000 children have been sold into sexual slavery in the United States. The global market generates $32 billion in profits yearly, the foundation says.