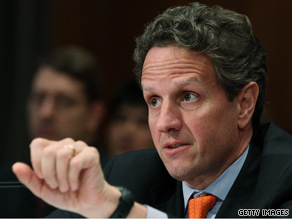 Treasury Secretary Timothy Geithner on Tuesday is slated to detail the administration's proposal to bill Wall Street for last year's bailouts, instead of taxpayers.
New York (CNNMoney.com) - Treasury Secretary Tim Geithner told lawmakers Tuesday that banks that took the most risks during the financial crisis, and required government aid, should pay the most toward recouping bailout costs.
In prepared testimony for the Senate Finance Committee, Geithner said the proposed Financial Crisis Responsibility Fee could raise about $90 billion over 10 years.
"We designed the fee so that it would fall most heavily on firms that fund riskier activities with less stable forms of funding," Geithner said in his testimony, adding that over 99% of banks would be excluded from the fee.
Updated: 10:34 a.m.