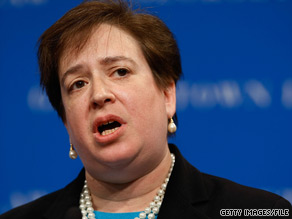 As solicitor general, Elena Kagan is the administration's top lawyer before the Supreme Court.
Washington (CNN) - "You are not my people." That was Elena Kagan's blunt but light-hearted declaration when she greeted conservative legal minds meeting at Harvard's prestigious law school in 2005.
As dean, Kagan warmly welcomed the thousand or so members of the right-leaning Federalist Society but let them know she shared few of their views on the law and society.
Yet the conservative and libertarian faithful that night cheered Kagan's honesty and willingness to mix it up with her ideological opposites. It is that reputation as a consensus-builder that has earned the solicitor general positive reviews on the left and right.
Those bipartisan skills, and her limited public comments on hot-button issues, have generally kept Republican criticism at bay and put the 49-year-old experienced lawyer and policy-maker near the top of the contenders for nomination to the Supreme Court.