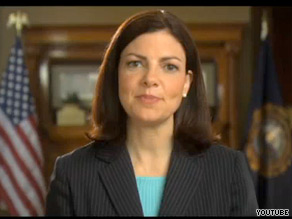 Kelly Ayotte released her first television ad on Wednesday.
Washington (CNN) - The New Hampshire Republican hoping to keep an open Senate seat in GOP hands released her first campaign ad on Wednesday.
Former Attorney General of New Hampshire Kelly Ayotte, the first female to hold that post, uses the ad to tout her record in law enforcement.
"As Attorney General, I made tough decisions that put murderers behind bars and held corrupt public officials accountable," Ayotte says in the ad. "And I'll make tough decisions in Washington with common sense spending cuts that make government work for us again."
In the ad's opening lines, Ayotte portrays herself as a Washington outsider, saying "400 million an hour. Every single hour, of every single day. That's what Washington is spending."
The spot is titled "Tough Decisions." According to the Ayotte campaign, the initial advertising buy is $90,000 for the first two weeks.
Ayotte is one of several Republican hopefuls in New Hampshire's September GOP primary. The eventual nominee will face Democratic Rep. Paul Hodes, unchallenged in his party's primary, in the November general election. The winner will replace retiring Republican Sen. Judd Gregg.