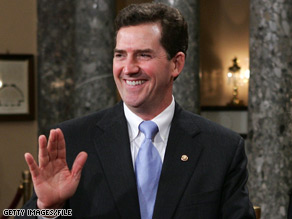 Sen. Jim DeMint announced Wednesday that he is backing Rand Paul for Senate in Kentucky.
Washington (CNN) – South Carolina Sen. Jim DeMint announced his support for Rand Paul Wednesday in the Kentucky Republican Senate primary, the latest endorsement that has put DeMint at odds with GOP leaders.
DeMint's backing of Paul stands in disagreement with Senate Minority Leader Mitch McConnell's endorsement of Kentucky Secretary of State Trey Grayson, who is Paul's main competition to be the GOP nominee for the November election. McConnell is the senior senator from Kentucky. Paul is the son of Rep. Ron Paul, R-Texas, and is one of several Republicans seeking his party's nomination.
DeMint acknowledged that he and McConnell are backing different candidates in this intraparty battle, but emphasized that he continues to support McConnell as the top Republican in the Senate.
"Senator McConnell and I are on different sides in this race but I support him as our leader," DeMint said in a statement issued by his Senate Conservatives Fund political action committee.
As for Paul, DeMint said he is endorsing him because the ophthalmologist is a "true conservative who will stand up to the Washington establishment."
DeMint has recently supported other candidates who were not favored by the Republican Party establishment.
DeMint was an early supporter of Marco Rubio, the former Florida House speaker who is now the favorite to win the Florida GOP Senate nomination. His opponent, Gov. Charlie Crist, had been endorsed by national and state Republicans. But Crist removed himself from the primary last week after realizing Rubio would likely win. Rubio now has the backing of GOP leaders and Crist is running an independent bid for the seat.
Another DeMint backed candidate, state Sen. Marlin Stutzman, lost his bid Tuesday for the Indiana GOP Senate nomination. Stutzman placed second to former Sen. Dan Coats, who was the favorite of the GOP establishment.