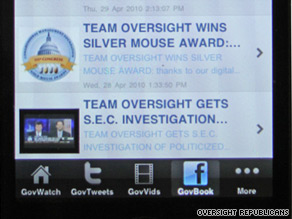 On Thursday, Republicans will launch the first Congressional committee iPhone app.
Washington (CNN) - With Republicans on Capitol Hill eyeing the next two elections, strategists have been aggressively gearing up on the digital front.
Much of the focus has been on the campaign side, with a focus on social media sites like Twitter, Facebook and YouTube. On Thursday, Republicans will launch the first Congressional committee iPhone app in an effort to expand how Congress uses mobile technology.
The app, called GovWatch, was created by Rep. Darrell Issa, R-California, the ranking member on the House Committee on Oversight and Government Reform. An Issa aide said the app will act as a one stop shop for users to interact with Republicans on the committee via Facebook, Twitter, YouTube, Flickr and through the committee's website.
Leading the effort on the iPhone app has been Seamus Kraft, the committee's Director of New Media.
"GovWatch centralizes and mobilizes all of our digital communications, allowing the user to view and share our government watch-dogging work without leaving the app," Kraft told CNN in an e-mail.
House Minority Whip Eric Cantor, R-Virginia, has the only other major mobile app in Congress, which launched in early 2010. Because both apps are designed for governing - not campaigning - collecting donations, phoning friends or other popular election mobile tactics are not featured.
Kraft sees the GovWatch app not only as a tool for transparency and oversight, but also an opportunity to help Republicans become more comfortable with mobile technology.
"We view it as a flag-planting app, getting Oversight Republicans into the mobile world and getting the American people comfortable with digitized conservatism," Kraft said.