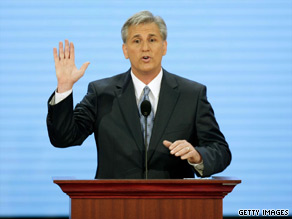 California Rep. Kevin McCarthy is leading the 'Commitment to America' online effort.
Washington (CNN) - Remember the 1994 "Contract with America" that propelled Republicans back into the majority of the House of Representatives with its author Newt Gingrich as their speaker?
Well, 16 years later, it's back to the future - the GOP is again drafting a blueprint designed to take back control of Congress. But this time, it is looking for authors everywhere, and if you want help write the 2010 GOP "Commitment to America," you can take out your iPhone or BlackBerry and point your browser to a new GOP website coming soon.
House Republicans are teaming up with what they call a "major U.S. software giant" to hold an interactive discussion with people wherever and whenever they want to talk, blog or tweet.

Full story