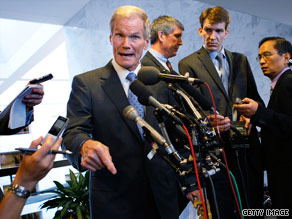 Sen. Bill Nelson, D-Florida, met with BP executives Tuesday on Capitol Hill.
Washington (CNN) - There were conflicting messages Tuesday from a Democratic senator from Florida and the CEO of BP about whether the oil giant will pay for all economic damages to workers and communities along the Gulf Coast facing possible harm from the large oil spill there.
The potential costs are huge and could go well beyond merely paying for the actual cleanup of the leaking oil. Federal law currently caps economic damages from an oil spill at $75 million and allows damages up to $1 billion to be paid for by a special industry-funded trust fund. To this point, BP's responses to questions about whether it will pay for damages beyond that cap have not been clear.
"What I've said is what I mean; all legitimate claims will be honored," BP CEO Tony Hayward said when CNN pressed him to clarify the company's position. He added that he thinks it's "inevitable" the cap will be exceeded.
However, Sen. Bill Nelson, D-Florida, who summoned Hayward and BP America Chairman Lamar McKay to his Senate office, said he heard a different message from the BP chief.
"He expects the $75 million to be exceeded," Nelson said after the approximately 45-minute meeting. "When I pressed him on who was going to be liable for the economic damages, not the cleanup damages - the economic damages - he said that will be something we will determine in the future."

Did Nelson take that to mean BP will fight paying for damages above the $75 million cap?
"Oh yeah," Nelson responded. "He said that is something that we will work out, we will discuss. I don't know that he used the work negotiate, but that was the impression."
Nelson introduced legislation Tuesday to raise that liability cap to $10 billion.
The BP executives met on the Hill or spoke by phone with the six U.S. senators from Louisiana, Mississippi, and Florida Tuesday.
Sen. Roger Wicker, R-Mississippi, said he didn't discuss the issue of liability with the company representatives but focused his discussion with them on how to cap the damaged well.