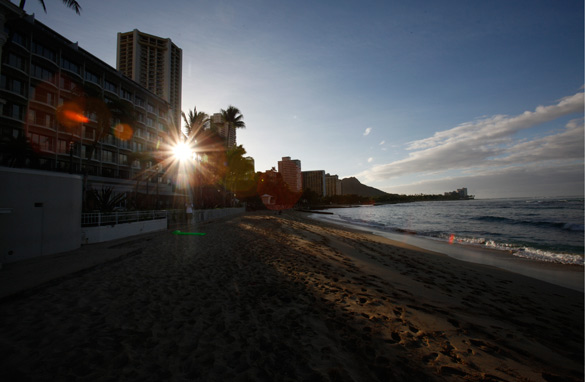 Polling in a three-way Hawaii special election indicates that the two Democrats in the race are splitting their party's vote to the benefit of the Republican candidate. (Photo Credit: Getty Images/File)
(CNN) – Borrowing a phrase from one-time presidential hopeful Hillary Clinton, Hawaii Democratic congressional candidate Colleen Hanabusa says she's "in this race to win it."
Hawaii's state Senate president say she's not dropping out of a contest for former Rep. Neil Abercrombie's seat in Hawaii's 1st congressional district, telling reporters Wednesday that "I'm in the race until the end."
Along with former Rep. Ed Case, Hanabusa is one of two Democrats in the May 22 special election. In a contest for what should be a safe seat for Democrats, recent polls indicate the two Dems are splitting the vote, with the Republican candidate, Honolulu city councilman Charles Djou, in first place in the surveys. The special election is a winner takes all contest, with only a plurality needed for victory.
Hanabusa is in third place, according to the polls. But she disputes the surveys' findings and says they are wrong, according to local reports.

While national Democratic Party organizations may favor Case, they have not formally endorsed either of their party's candidates. Meanwhile, the state's two Democratic Senators, Daniel Akaka and Daniel Inouye, are pushing for Hanabusa. The Democratic Congressional Campaign Committee is running ads that criticize Djou and is also pushing efforts to get out the Democratic vote.
Abercrombie, who stepped down earlier this year to run for governor, won more than three-quarters of the vote in his 2008 re-election, and then-Sen. Barack Obama, who spent much of his childhood in Hawaii, took 70 percent of the vote in the district in the 2008. But, four years earlier, Sen. John Kerry, D-Massachusetts, won the district by only six points. The district covers Honolulu and some surrounding suburbs.
Voting in the contest is underway, and ballots in the all-mail special election need to be returned to the state Office of Elections by May 22.
And, as for the Clinton comparison: In early 2007, when then-Sen. Hillary Clinton, D-New York, announced her bid for the White House, she said "I'm running for president and I'm in it to win it."