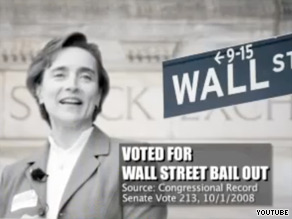 A new ad released by labor group SEIU targets Arkansas Sen. Blanch Lincoln.
Washington (CNN) - It's not often that one of President Obama's major backers expresses support for him, but openly works against a candidate he is backing. But that is what's happening in the Arkansas Democratic Senate primary.
The Service Employees International Union released a new television ad on Thursday, complimenting a radio spot put out on Wednesday, that call for Sen. Blanche Lincoln's defeat. Earlier in the week, the Lincoln campaign released a radio ad featuring Obama.
Lincoln, seeking a third term, is running against Lt. Gov. Bill Halter in the primary.
The SEIU, a strong supporter of the president, is delicately using political strategy to make its case, essentially telling Democrats who like the president that they can still defy his wishes in this primary.
SEIU Spokesperson Lori Lodes told CNN that the 2.2 million-member labor union is, "Making sure that people see both sides … that they can love President Obama … and support Bill Halter."
The dueling ads show that the SEIU and the president are clearly at odds over who should be the next senator for Arkansas.
The new SEIU ads, part of a $1 million buy, characterize Lincoln's positions as jobs-killing and pro-Wall Street. "It was Blanche Lincoln who voted to ship our jobs to Mexico and China, helping corporations and hurting us," a narrator says in the new 30-second television ad. "And Lincoln voted to use our tax dollars to bailout Wall Street banks."
In the radio spot, listeners hear five different voices, woven together, who express their support for Halter.
"I'm a strong supporter of President Obama, but I'm voting for Bill Halter for senator," Halter supporters say in the ad. "I love President Obama, but I can't vote for Blanche Lincoln again … Senator Lincoln has turned her back on Arkansas … turned her back on the middle class."
As for the senator's position on health care reform, a voice in the radio ad says, "Senator Lincoln says she supported health reform. But we all know she refused to take on the big insurance companies."
Lincoln voted for the health care bill that the president signed into law earlier this year. But she voted against the separate, reconciliation package that made changes in the law.
President Obama, in the Lincoln campaign ad, casts the senator in an entirely different light.
"Blanche is leading the fight to hold Wall Street accountable, and make sure that Arkansas taxpayers are never again asked to bailout Wall Street bankers," the president said. The president added that Lincoln is "standing on the side of workers who've lost their jobs," and that Lincoln "took on big insurance companies" amid the debate over health care reform.
"So I urge you to join me in supporting Senator Blanche Lincoln for re-election on Tuesday May 18," Obama said.
On the Republican side, there are eight candidates battling for their party's nomination. Some political observers consider the Senate seat a possible pickup for the GOP.