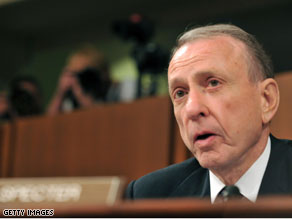 Sen. Arlen Specter is targeted in a new television ad that links him to Sarah Palin and George W. Bush.
Washington (CNN) – Rep. Joe Sestak unveiled what may be his final salvo against Sen. Arlen Specter, tying him to former President George W. Bush and former vice presidential nominee Sarah Palin Thursday in a new television ad meant to appeal to Democratic primary voters.
The commercial comes less than two weeks before Pennsylvania Democrats choose their nominee for the Senate. Recent polls show that Sestak, who has been trailing in the polls, is now within striking distance of Specter, a Republican who switched his party affiliation to Democrat last year.
In the 30-second spot, Bush is seen calling Specter an "ally" and says that "he is the right man for the United States Senate." Specter's own words are used against him twice, with footage of him saying "my change in party will enable me to be re-elected," touting his 2009 party switch.
The ad also hits Specter over an issue that looms large for voters in the upcoming 2010 midterm elections: high unemployment numbers. "Arlen Specter switched parties to save one job: his, not yours," an announcer is heard saying at the close of the ad.
As of March 2010, Pennsylvania had a 9 percent unemployment rate, which mirrors the national average.
When asked for a response, Specter's campaign manager Chris Nicholas hit back against the GOP ties highlighted in the ad, listing Specter's large number of endorsements from prominent Democratic organizations and leaders including President Obama.
"The people that Democratic voters know and trust Arlen Specter," Nicholas said. "So far, Congressman Sestak's highest profile endorsement has come from then-Congressman Eric Massa. As President Obama said last year about Senator Specter, 'You've got to make sure that you support somebody who's got the savvy and intelligence and the tenacity to actually get things done. That's who Arlen Specter is. I'm proud to call him a friend. I am glad that he is in the Senate.'"