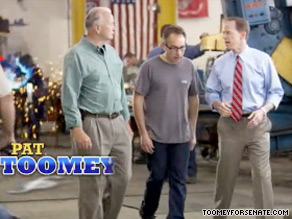 Pat Toomey is up with his first television ad.
Washington (CNN) – Former Rep. Pat Toomey, the likely Republican nominee in the Pennsylvania Senate race, unveiled his first television commercial Monday in which he touts his track record of fiscal discipline and ability to create jobs.
The ad comes one week before the Pennsylvania primary and will run "statewide on broadcast and cable TV stations, and will air for an indefinite period of time," according to a statement from Toomey's campaign.
With Sen. Arlen Specter's decision to leave the Republican Party last year, Toomey faces minimal opposition in the GOP primary. Toomey's decision to go on the air now helps ensure that he remains part of the conversation as Specter and Rep. Joe Sestak battle for the Democratic Senate nomination. The Pennsylvania primary takes place May 18.
In the 30 second commercial titled "Generations," Toomey emphasizes his conservative economic credentials and weaves together footage of the former congressman talking to workers as well as spending time with his family. His nine-year-old daughter, Bridget, even has a speaking role, endorsing her dad's candidacy. The ad makes no mention of mention Specter or Sestak.
Red the full script after jump.
"Generations" transcript:

Voiceover: Trillion dollar bailouts and deficits, government-run health care, record unemployment. Had enough? Pat Toomey is a former small business owner who's created Pennsylvania jobs. He's been called a "taxpayer hero" who "puts principles ahead of party line obedience." Toomey's taken on both parties when they waste tax dollars.

Pat Toomey: I'm Pat Toomey and I approve this message because future generations deserve better.

Bridget Toomey (age 9): And I agree.

Voiceover: More jobs, less government. Pat Toomey.