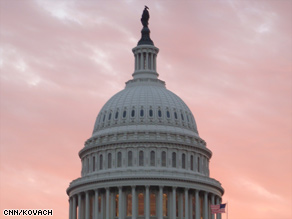 The CNN Washington Bureau's morning speed read of the top stories making news from around the country and the world.
WASHINGTON/POLITICAL
For the latest political news: www.CNNPolitics.com
CNN: Kagan to be Supreme Court nominee, source says
President Obama has selected Solicitor General Elena Kagan as the Supreme Court nominee to replace the retiring John Paul Stevens, a legal source close to the process told CNN Sunday evening. The nomination is expected to be announced Monday at 11 a.m., another source familiar with the process said.
CNN: Utah GOP convention rejects incumbent Sen. Robert Bennett
Facing significant anger aimed at Washington and at some of his past votes, Utah Sen. Robert Bennett was eliminated Saturday from seeking re-election as a Republican, becoming the first incumbent to fall victim to the growing anti-Washington mood ahead of the 2010 midterm elections. Bennett came in third in a second round of balloting at the state party convention behind more conservative candidates Tim Bridgewater and Mike Lee.
CNN: Holder: Feds may sue over Arizona immigration law
Attorney General Eric Holder said Sunday that the Justice Department was considering a federal lawsuit against Arizona's new immigration law. Critics say the law will lead to racial profiling, while supporters say it involves no racial profiling and is needed to crack down on increasing crime involving illegal immigrants. In Arizona, the city councils of Tucson and Flagstaff have decided to challenge the new immigration law in court.
Politico: Reid: GOP is "anti-immigrant party" for blocking reform
Senate Majority Leader Harry Reid lashed out at Republicans as the "anti-immigrant party" in an interview aired Sunday on Univision. Talking with the "Al Punto" program, the Nevada Democrat refused to tell host Jorge Ramos whether he would first bring an energy or an immigration bill to the floor. "Both of those issues, we need a Republican," Reid said. At times testy, he avoided taking any responsibility for his failure to move either piece of legislation. Reid became annoyed when Ramos asked him whether Democrats should be concerned about losing Latino votes in the midterm elections because of their failure to pass reform.
Wall Street Journal: Immigration Debate Flares in Oklahoma
Oklahoma is far from the border and home to fewer illegal immigrants than much of the U.S. But this heartland state has emerged as the most aggressive combatant of illegal immigration alongside Arizona, thanks to a state lawmaker who has built his political career around the issue. State Rep. Randy Terrill, a Republican, has in the past few years pushed through a series of measures to try to drive out illegal immigrants, whom he blames for economic hardship and lawlessness in his state. To his detractors, Mr. Terrill is a political opportunist who is using illegal immigration to inflame passions and win votes. To his supporters, he is a model for how state lawmakers can take control of immigration.
Wall Street Journal: Florida Senate Race Puts Obama in a Bind
White House officials have taken calls in recent days from at least three Democrats seeking to start a conversation about the candidacy of Florida Gov. Charlie Crist, the one-time Republican star who is now running for Senate as an independent. These Democrats are active in party politics but are nonetheless backing or leaning toward Mr. Crist in the Senate race. The White House told the Democrats that the president is supporting his party's likely nominee, U.S. Rep. Kendrick Meek. But the Democrats came away from the conversations thinking that the White House might be open to discussing the level of passion that it would put behind Mr. Meek's candidacy, according to people familiar with the conversations.
Idaho Statesman: For Rep. Mike Simpson, it's time to play some defense
Rep. Mike Simpson has had plenty of opponents since he first was elected to represent Idaho in Congress in 1998, but he's walked away the winner each time by a healthy margin. This year, though, Simpson isn't taking any chances. He knows it's not the year to be a moderate in a district where Republicans can't be too conservative. Or, for that matter, an incumbent. So Simpson has spent more time and money than he did on his previous re-election bids – already, he has raised three times as much this year as he did at this point in his 2008 campaign.
Detroit News: Michigan women try to break U.S. House barrier
Connie Saltonstall is working to become a member of one of the state's tiniest clubs: Michigan women elected to the United States House of Representatives. The former Charlevoix commissioner is one of six female candidates in the midterm elections vying to succeed or unseat male congressmen in the state delegation. If any win, it would be a rare victory. In a state that has a woman governor, senator and secretary of state, and has put women in other statewide and local leadership positions, voters have sent only seven to the House since its first congressman, Isaac Edwin Crary, was officially recognized in 1837.
Atlanta Journal Constitution: Carter campaigns for grandson
Special elections for legislative races rarely draw much notice. But a vote this Tuesday to fill a Senate seat in the eastern neighborhoods and suburbs of Atlanta has politicos watching a candidate with lots of money and a famous last name. Jason Carter, oldest grandson of the former president, has been working behind the scenes for state Democrats since 2002 and is looking to step out as a new public face for a party that has struggled with losses, infighting and misdirection for years. Many local party officials are backing Carter. His famous grandparents, Jimmy and Rosalyn Carter, came up from Plains this weekend to stump for him in the East Lake neighborhood.
Washington Post: Whitman-Poizner race gets closer in California
For months, former eBay chief executive Meg Whitman was the story of California politics - using tens of millions of dollars in personal campaign contributions to build a wide lead over state Insurance Commissioner Steve Poizner in the Republican primary for governor and emerging as a front-runner in a general-election matchup against state Attorney General Jerry Brown (D). Of late, Whitman is the story for a different reason. She has watched her support rapidly erode and is now in a real race against Poizner in advance of the June 8 primary.
The Hill: Tiahrt, Moran fight over conservative cred to replace Brownback
GOP Rep. Todd Tiahrt has ramped up attacks on his longtime House colleague Rep. Jerry Moran in the internecine fight to replace Kansas Sen. Sam Brownback. The battle to join the club of 100 across the dome from their current perches has been nasty and getting nastier with both men vying to appeal to the most conservative in their party. Brownback announced his intention to retire at the end of his term, as he pursues a bid for governor of Kansas.
Lexington Herald-Leader: Iowa group spends big to oppose Rand Paul
An out-of-state advocacy group is spending big bucks on television ads in Kentucky to criticize Republican U.S. Senate candidate Rand Paul for threatening "Kentucky values." American Future Fund, based in Des Moines, Iowa, launched the ad Friday, spending $104,296 to air the spot 148 times in the Lexington TV market before the May 18 election, according to the public ad file at WKYT-TV. That spending dwarfs the amount being spent for Lexington TV ads by either Paul or his chief opponent, Secretary of State Trey Grayson.
The Hill: Dems advised to leave their 'wonk' at home to help win at voting booth
House Democrats need to drop their wonky policy talk if they want to capture voters this fall. The party should emphasize what it stands for, and ensure its argument for remaining in power is not lost in the weeds of policy; political consultant Drew Westen told the caucus this week, according to people who attended his briefing. Westin told House Democrats in the House to start talking more about what they stand for and less about the intricate details of the bills they've passed and the laws they've enacted.
Los Angeles Times: Uncertain times for old-school Democrats
These are awkward times for the Democratic Old Guard. With President Obama in the White House, long-held goals are finally being achieved, but even as they savor their victories, senior Democrats are facing midterm elections that make them unexpectedly vulnerable. In the eyes of many surly voters, they are part of the problem: established, entrenched incumbents who have grown out of touch with the country. Looming over all of them is the memory of 1994, when Democrats did not just lose control of Congress; Republicans also felled some of the tallest trees in the House, including Speaker Tom Foley of Washington. In less volatile times, it was almost unthinkable that party leaders or committee chairs would be in danger of being dumped.
NATIONAL
For the latest national news: www.CNN.com
CNN: Holder: Pakistani Taliban helped direct Times Square plot
The man charged in the failed Times Square bombing was working with the Taliban movement in Pakistan, the U.S. attorney general said Sunday. John Brennan, the assistant to the president for counterterrorism and homeland security, told CNN's "State of the Union" that the Pakistani Taliban - also known as Tehrik-e-Taliban, or TTP - is closely allied with al Qaeda. The group has pledged to carry out attacks outside of central Asia, including the United States, Brennan said Sunday. Shahzad has been charged in the May 1 attempted bombing in Times Square.
CNN: Next step to stop oil: Throw garbage at it
If using a massive dome to cover the source of the oil gushing into the Gulf of Mexico doesn't work, crews are preparing for another option: clogging it. Engineers are examining whether they can close a failed blowout preventer by stuffing it with trash, said Adm. Thad Allen, the commandant of the Coast Guard. The 48-foot-tall, 450-ton device sits atop the well at the heart of the Gulf oil spill and is designed to stop leaks, but it has not been working properly since the oil rig Deepwater Horizon exploded April 20 and later sank.
CNN: Gates: Pentagon must cut overhead, restrain spending
The Pentagon must hold down its spending and make choices that will anger "powerful people" in an era of economic strain, Defense Secretary Robert Gates said in a weekend speech in Kansas. Increasing health care costs, a top-heavy uniformed and civilian management force, and big-ticket weapons systems are swelling the military's budget at an "unsustainable" rate, Gates said.
INTERNATIONAL
For the latest international news: http://edition.cnn.com
CNN: Obama 'very concerned' about Greece's economic crisis
President Obama is "very concerned" about Greece's economic crisis, sees mounting threats against the United States from non-state actors and wants to resolve the dispute with Russia over adoptions, he said in an interview released Saturday by the White House. This week, Greek lawmakers approved a package of budget-cutting measures to help the country's battered economy - measures that were required to meet the terms of a 110 billion euro ($140 billion) bailout. European Union leaders called for a "stabilization mechanism" on Saturday in hopes of easing markets shaken by Greece's economic crisis before they re-open Monday.
New York Times: E.U. Details $957 Billion Rescue Package
European leaders agreed on Monday to provide a huge rescue package of nearly $1 trillion in a sweeping effort to combat the debt crisis that has engulfed Europe and threatened markets around the world. In an extraordinary session that lasted into the early morning hours, finance ministers from the European Union agreed on a deal that would provide $560 billion in new loans and $76 billion under an existing lending program. Elena Salgado, the Spanish finance minister, who announced the deal, also said the International Monetary Fund was prepared to give up to $321 billion separately.
Times of London: Voters tell Gordon Brown to quit as David Cameron races to secure deal
David Cameron, the Conservative leader, was last night preparing to raise his offer to the Liberal Democrats on voting reform in an attempt to secure a swift coalition deal and create a stable government. At the same time a Sunday Times/YouGov poll, taken yesterday and on Friday, showed that the vast majority of the electorate want Gordon Brown to quit No 10 now. Only 28% want him to remain as prime minister. Brown was also being urged by some senior ministers to quit and allow Labour to go into opposition with the prospect of a fresh election within a year. With Nick Clegg under pressure from his own supporters, Cameron is today expected to make new concessions which could include a public ballot on changing the electoral system.
CNN: Violence mars Philippines elections
A gunman killed three people and wounded at least five at the house of a mayoral candidate in the Philippines before polls opened on Monday, a military spokeswoman said. The attack happened around 2:30 a.m. when an unidentified gunman raided the house of a mayoral candidate in Zamboanga del Sur province, said spokeswoman Steffani Cacho. The incident is under investigation, she added. More than 50 million ballots have been printed with a dizzying number of candidates to choose from - nine for president alone, among them front-runner Sen. Benigno Aquino III, son of a former president; and Joseph Estrada, a former president himself.
Wall Street Journal: German Election Delivers Setback To Merkel's Party
Chancellor Angela Merkel's center-right alliance suffered a stinging defeat in a crucial regional election Sunday amid a voter backlash against German financial aid for Greece, adding to Ms. Merkel's woes as her government grapples with the mounting debt crisis in the euro zone. The result means Ms. Merkel's national government, which also includes the CDU and FDP, is set to lose its majority in Germany's upper house of parliament, the Bundesrat, which represents Germany's 16 states. That would force Ms. Merkel to negotiate with left-leaning opposition parties to pass important economic legislation, hitting her government's ambitions of pushing through overhauls such as tax cuts.
BBC News: Thailand policemen targeted in Bangkok attacks
Two policemen have been killed and several people wounded in the Thai capital, Bangkok, officials said. One policeman was killed in a drive-by shooting in the Silom financial district. The other died of wounds he sustained in a grenade attack nearby. It is not clear who was responsible for the attacks, which occurred near where anti-government protesters are camped. The latest violence comes amid concerted efforts to try to bring the two-month-old stand-off to an end.
CNN: Palestinian leaders agree to indirect talks with Israel
Palestinian leaders have agreed to begin indirect peace talks with Israel, a Palestinian official said Saturday. U.S. special envoy George Mitchell will broker the talks, shuttling between the two sides, Palestinian presidential adviser Yasser Abed Rabbo told reporters. The Palestine Liberation Organization's executive committee approved initiating talks after a three-hour meeting in Ramallah in the West Bank Saturday, he said. U.S. officials hope the "proximity talks" will be the first step toward restarting direct talks between the two sides.
BBC News: Toll rises to 30 as rescue continues at Russian mine
The number of people known to have died after two gas explosions at a coal mine in Russia has risen to at least 30. The blasts at the Raspadskaya mine in western Siberia trapped more than 80 others underground. Those who are trapped include both miners, and rescuers who were already underground when a second explosion happened. It is not clear whether any trapped miners are still alive, according to the Emergency Situations Ministry.
BUSINESS
For the latest business news: www.CNNMoney.com
CNNMoney: Stocks: After the avalanche
A brutal week on Wall Street left all three major stock gauges in negative territory for the year and the Nasdaq in full-on 'correction' mode. This week looks to bring little in the way of relief. But as Friday's better-than-expected April jobs report made clear, investors know company and economic news is looking better. They aren't focused on that at the moment; they have other things on their minds.
CNNMoney: Europe and U.S. step up rescue efforts
As world markets remained on edge, European Union leaders reached agreement Sunday on a massive show of force to support struggling countries in the region. Separately, the U.S. Federal Reserve joined central banks in Canada and Europe in re-establishing a program meant to improve lending conditions.
Bloomberg: Asia-Pacific Bond Risk Drops Most in a Year on EU Loan Package
The cost of protecting Asia-Pacific bonds from default fell the most in a year after the European Union unveiled a plan worth almost $1 trillion aimed at halting a sovereign-debt crisis. The Markit iTraxx Asia index of credit-default swaps on 50 regional borrowers fell 22 basis points to 115 basis points as of 8:33 a.m. in Singapore, its biggest drop since May 7, 2009, according to Deutsche Bank AG and CMA DataVision in New York. The iTraxx bond risk benchmark for Australia also plunged the most in 12 months, while Japan's dropped the most in five months.
CNNMoney: Goodbye, stimulus. Hello, state budget cuts
Think states have made deep spending cuts? You ain't seen nothing yet. States have been struggling with huge budget gaps since 2008, but this year could be worse as federal stimulus funds wind down. Until now, stimulus money spared governors and state lawmakers from making some of the most brutal budget cuts. But with this lifeline running out, officials are looking at making significant cutbacks to public services, particularly schools and health programs.
Business Week: Nokia Sues Apple Over Technology Used in IPhone, IPad
Nokia Oyj, the world's biggest maker of mobile phones, filed a patent-infringement lawsuit against Apple Inc. in its latest salvo over the iPhone and iPad. The lawsuit, the fifth patent complaint between the two companies in the past year over smartphone technology, broadens the fight to include Apple's iPad touch-screen computer tablet. Nokia's filing today in federal court in Madison, Wisconsin, helped push Apple shares down 4.2 percent in New York trading, their steepest drop since Jan. 22. In the three years since the iPhone was introduced, Apple has seized Nokia's position as the company that defines the high-end smartphone market.
CNNMoney: A summer job drought for youth
The job situation is starting to look better for grownups. But college and high school kids could be in for a long, disappointing summer. While Friday's employment report showed employers adding 290,000, the biggest jump in four years, unemployment among 16- to 24-year-olds stands at nearly 20% heading into this summer. That's almost doubled from 2007, the last summer before the recession, when it averaged just over 10%. And the numbers tell only part of the story since so many younger job seekers have simply given up and no longer counted as unemployed.
Wall Street Journal: Real Estate's Far Reach Will Continue to Pinch
Highflying property prices drove the most-recent economic boom, and a collapse in real-estate values hammered it back down. Now, as the economy struggles to regain strength, real estate is expected to continue to act as a brake, rather than an accelerator. Despite clear signs of revival in the larger economy, including upturns in manufacturing and consumer spending, the nation's market for homes and office buildings remains mired in foreclosures and oversupply. That imbalance will be worked out over time, but in the meantime, it is slowing the recovery in myriad ways.
In Case You Missed It
CNN's Kate Bolduan profiles Solicitor General and possible Supreme Court nominee Elena Kagan.
Sens. Bill Nelson (D-FL) and Richard Shelby (R-AL) talk about the influence and regulation of "Big Oil."
Subscribe to the CNN=Politics DAILY podcast at http://www.cnn.com/politicalpodcast
And now stay posted on the latest from the campaign trail by downloading the CNN=Politics SCREENSAVER at http://www.CNN.com/situationroom