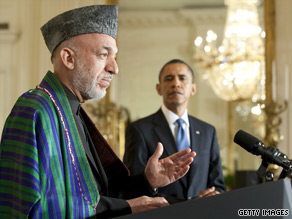 Hamid Karzai will visit Arlington National Cemetery on Thursday.
Washington (CNN) - Six weeks ago in Kabul, President Obama struggled to find something positive to say about his host, Afghan President Hamid Karzai. U.S. National Security Adviser James Jones was far less diplomatic, saying his boss wanted Karzai to understand "that in his second term, there are certain things that have not been paid attention to, almost since Day One."
That frosty visit was followed by weeks of hostility between Washington and Kabul, during which Karzai made a string of anti-Western comments.
He blamed the West for corruption in Afghanistan, accused the U.S. and its allies of fraud in the election that kept him in power and even threatened to join the Taliban if the international community continued to pressure his administration.
An incensed White House threatened to cancel this week's visit. Yet there were no visible tensions Tuesday when Hillary Clinton welcomed Karzai to the State Department for several days of talks including military, defense, diplomatic and intelligence chiefs from both countries, and meetings with President Obama.